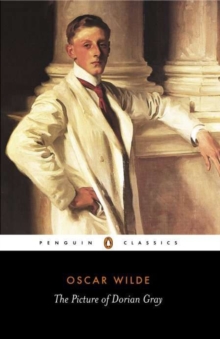 Picture of Dorian Gray
EPUB
Description
Oscar Wilde's tale of a Faustian pact in Victorian England, The Picture of Dorian Gray is a both a slow-burning Gothic horror and a brilliant philosophical investigation of youth, beauty and desire.
This Penguin Classics edition is edited with an introduction and notes by Robert Mighall.Enthralled by his own exquisite portrait, Dorian Gray exchanges his soul for eternal youth and beauty.
Influenced by his friend Lord Henry Wotton, he is drawn into a corrupt double life; indulging his desires in secret while remaining a gentleman in the eyes of polite society.
Only his portrait bears the traces of his decadence.
The Picture of Dorian Gray was a succes de scandale.
Early readers were shocked by its hints at unspeakable sins, and the book was later used as evidence against Wilde at the Old Bailey in 1895.
It has lost none of its power to fascinate and disturb.This definitive edition includes a selection of contemporary reviews condemning the novels immorality, and the introduction to the first Penguin Classics edition by Peter Ackroyd.Oscar Wilde (1854-1900), son of an eminent eye-surgeon and a nationalist poet, was educated in Dublin and Oxford and became the leading exponent of the new Aesthetic Movement.
His work, including short fiction such The Happy Price (1888), his novel The Picture of Dorian Gray (1891), gradually won him a reputation, which was cemented by his phenomenally successful plays, including A Woman of No Importance (1893), An Ideal Husband (1895) and The Importance of Being Earnest (1895).
Imprisoned for homosexual acts, he died after his release, in exile in Paris.If you enjoyed The Picture of Dorian Gray, you might like Joris-Karl Huysmans' Against Nature (A Rebours) Wilde's real-life inspiration for the novel that slowly corrupts Dorian Gray, also available in Penguin Classics.
Information
Format: EPUB
Pages: 320 pages
Publisher: Penguin Books Ltd
Publication Date: 30/01/2003
Category: Classic fiction (pre c 1945)
ISBN: 9780141439570
Other Formats
Paperback from £2.50
Hardback from £7.39
Leather / fine binding from £21.95
CD-Audio from £11.39
EPUB from £0.99
Mixed media product from £10.22
Other book format from £12.45
Free Home Delivery
on all orders
Pick up orders
from local bookshops
Reviews
Showing 1 - 5 of 10 reviews.
Previous | Next
Review by soylentgreen23
16/06/2015
Wilde didn't write many novels during his painfully short career; in fact, this is about the only one I can think of. It's incredibly beautiful though, and a very powerful comment about what beauty, and the search for it and conquest over it, can do to people.
Review by RRLevering
16/06/2015
I didn't much care for this novel as a whole, though I thought the writing quite nice. The conversations and the characters are interesting, albeit a bit predictable. The main problem rests in the pacing and point of the novel. I found Dorian's descent into "indecency" not well explicated and then his final fall seems to be totally out of character. I don't regret reading the novel, but I was a little disappointed to find such a scattered novel to be a classic. I think the main concept of the portrait is the only thing that makes this book so intriguing.
Review by readafew
16/06/2015
The Picture of Dorian Gray is a well known classic and many people have some idea about the story line, a magic picture ages and bears the marks while Dorian himself doesn't change. While that is an important part, there is a lot more to the story. I felt it was well worth the time to read this one. I am willing to admit ignorance in the subject but the first section of the book felt very much like a chaste homosexual romance, which considering the time it was written, I can only imagine many did consider it lurid, as several of the reviews of the time showed (5-6 contemporary reviews of the work were available in the appendixes). There were 3 main characters Dorian, his artist friend Basil Hallward and Lord Henry Wotten. Basil and Henry gravitate around Dorian and appear to be like the little angel and the little devil that sit on each shoulder. Basil an artist in love of beauty and purity. Lord Henry, a cynic and enjoys putting down everything others hold in high regard. Since this is a moral tale, Dorian slowly listens to his little devil more and more, and as he suffers no serious repercussions for his forays into sin, his experiments become darker and more elaborate. His portrait painted by Basil, is a road map and mirror to Dorian's depravity which starts to eat away at Dorian's sanity.Overall a fairly good tale, a little flowery like much of the Victorian lit but not nearly to the extent of Dracula.
Review by Meggo
16/06/2015
One of the classics of English literature, this book details the vicissitudes of one English gentleman's life after he is exposed to some radical ideas from a lordling. Dissipation is woven like a thread through this story, which I frankly found impossible to put down once the eerie painting of the young gentleman made its appearance. The ending was to me as much a surprise as it was perfectly appropriate, but then I've managed to avoid any commentary on the book until I had read it. By living in a cave. On the moon. With my fingers in my ears, apparently.
Review by Radaghast
16/06/2015
Make no mistake, this book is worthy of its reputation. Issues of vanity, obsession and youth are presented in an unforgettable way. But for me, they weren't issues I found interesting.