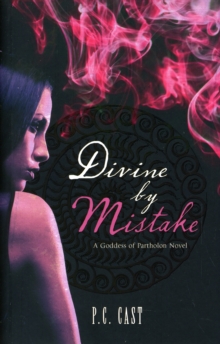 Divine by Mistake
Paperback
Description
I get this bizarre mirror world filled with a horse/guy who I have the serious hots for, creatures who are terrorising civilisation, deodorant-less armpits that probablystink and no toilet paper.This sucks.The only excitement Shannon Parker expected while on holiday was a little shopping.
Finding herself flung through fire into the world of Partholon (and left with a massive headache, thank you very much), she's now being treated like a goddess.Somehow Shannon has stepped into another's role in another world. And while there's an upside - who doesn't love lots of pampering? - it also comes with a ritual marriage to a centaur and threats against her new people.
Can Shannon survive this new world and ever find her way home?
Information
Format: Paperback
Pages: 576 pages
Publisher: Mira Books
Publication Date: 16/10/2009
Category: Fantasy
ISBN: 9780778303572
Free Home Delivery
on all orders
Pick up orders
from local bookshops
Reviews
Showing 1 - 5 of 5 reviews.
Review by cinnleigh
16/06/2015
Having been a fan of P.C. and Kristen Cast's House of Night series, I have to admit that I was a little apprehensive about trying out any of P.C. Cast's other books. For the most part, I love the House of Night series – would I feel the same way about her other books? While I do try to read many of my books in an objective format that allows me to see the good parts in each individual piece, I was afraid that if I became disenchanted with Cast's adult books, it might ruin her young adult ones for me as well.I am pleased to announce that I should have just thrown my worry to the ground and squished it under my shoe. While definitely having a different feel to them than the House of Night books do, the Goddess of Partholon books are turning out to be pretty spectacular. The first in the series, DIVINE BY MISTAKE follows Shannon Parker, a school teacher loving the freedom of summer break, as she discovers an ancient vase that will turn her world upside down - literally. Where there were once cars, there are now horses. Jeans and a cashmere sweater? Nope, let's try a lovely wrapped piece of silk and some strappy sandals. What's a girl to do with no mall, no teenagers to teach, and a world where the impossible walks before her very eyes? Barely awake for more than a few hours, Shannon – or Rhiannon, as she's known in Partholon – finds herself a key player in a handfast ceremony. Before she can say "Whoa there," Shannon is married to a horse (centaur) and thrown into a wild adventure.I'll admit that the beginning of the book was a little hard to get into. I almost put it down to take a break, but decided to keep on going. You'll remember that I said the same thing about Stephenie Meyer's The Host. The beginning was slow but the rest of the book was phenomenal. In this case, it seemed like the beginning of DIVINE BY MISTAKE almost went by a little too quickly. Some things didn't seem fully explained and other didn't make sense. I had to ignore my mind as it tried to figure out the spatial aspect of the story as it didn't always seem like the shapes and sizes of things in the story were described the same as the way they were used. Once I was able to get past this, however, I realized what a great book this really is.If there is anything new I have discovered about P.C. Cast's writing it's that this author is incredibly funny. The House of Night series can be humorous, but in general Zoey and her posse follow a fairly dark path. While there were certainly very dark and very graphic scenes in DIVINE BY MISTAKE, Ms. Cast was able to throw quite a bit of humor in their to lighten up the mood of the book. I can honestly say that Shannon is one of my favorite characters in the stories I have read thus far this year. The author has imbued her with a sense of humor, a modern personality that clashes beautifully with the old-fashioned world she has been transported to, and a set of quirks that just make her adorable. While we're discussing wonderful characters, let's visit ClanFintan, shall we. I can honestly say that I had never read a story that included any form of romance between a centaur and a human. I didn't know how it would work and it if would be weird, but the way Ms. Cast created her world and the way she developed her characters made this aspect of the story one of the best. ClanFintan is like any tall, dark, and handsome man we dream of. Only difference is that he has the hindquarters of a horse. What could be better for those of us that never grew out of our princess and horse-lover phase? The author's descriptions of ClanFintan, his mannerisms, and the personality she gives him really helped to make this one heck of a book.Fair warning: There are adult scenes and adult themes.I would recommend this to any lovers of Fantasy, Romance, or any combination of the two. I would recommend this to adult readers as there are some scenes that may be disturbing to younger readers.
Review by YAaddict
16/06/2015
My usual reading is YA lit, but I loved Cast's writing in the House of Night series, so I wanted to give this one a try. Plus, the premise intrigued me. Now I have to admit, I was a little nervous going in. With my normal MC being a high school student, I didn't know how I would relate to a high school teacher. I was afraid she might be stuffy. This was certainly not the case!I loved Shannon! She was real and funny and never took herself too seriously. It was her sarcasm though that won me over. She is the type of person that makes the best of her situation and has an optimistic attitude, which made her easy to like. I enjoyed hearing about her friendships with her closet friends in her "first life". They were exactly like girlfriends are with each other. The first forty pages moves a little slow. But when you get to page forty, Shannon is sucked into the worldof Partholon. Good luck putting it down at that point! I fell in love with this world Cast has created. The details are so real. I felt like I was in the gorgeous lands of Scotland, but in the time of greek gods. Some of the descriptions did get a little lengthy. The author was trying to set up this world for the rest of the series. I think what makes this fantasy world so real, is the author's passion for it. You can feel Cast's heart in the words when she is describing Partholon.The romance was fantastic. Now I usually try to avoid spoilers, but this one I must tell you. Because when I first saw ClanFintan was a centaur, I was like, "What the hell? How can there be a romance if he is a centaur? I need romance in my fantasies!". But I was relieved to find out he is a shape-shifter. As high shaman, he can shape into many shapes. One of those shapes being a very sexy man. I loved ClanFintan. He was always there for Shannon when she needed him, but he treated her with respect and as an equal. He is now one of my new favorite men of fiction. Yes, ClinFintan and Shannon figure out their love for each other rather quickly. But it just fit in this story. They are two adults who know what they what, so it all felt real and not forced to me. It was so obvious that these two should be together that I was glad I didn't have to wait around to see it.I loved the romance, but the action took center stage in the story. Shannon was thrown into the world where she is High-Priestess. On one hand it's great. She has servants to bring her whatever she needs, all the clothes a girl could want, someone to do her hair and and make up, and a never ending supply of wine. I do have to admit that my girly side was drooling. But as a high-priestess she has a lot of responsibility. The Fomorians are killing and raping her people, and it's all on Shannon's shoulders to stop them. Cast does a great job at pacing the story. I was often on the edge of my seat, dying to get to the next page.While I usually enjoy pop culture references, and some of them in the story were so funny they had me laughing out loud, I felt that there were too many. I found myself getting a little annoyed at some of them. But the minor annoyance wasn't enough to keep me from enjoying the story. The ending was great. It tied up the loose strings and left me with a smile on my face. But I still craved to be in Partholon. I was so glad to have the next book in the series on hand. Cast does what not many writers can do, and that is to completely throw you in a different world, where only what flies off the pages exists. Any adult reader that is a fan of fantasy will enjoy this book. And if you are an adult like me that usually stays in the YA genre, I think you will enjoy this one as well.
Review by soliloquies
16/06/2015
Really disappointed with this, the premise of the book sounded fantastic - time slipping into a world of goddesses. Unfortunately it never becomes a good book. The writing is poor and the characters are one dimensional. The main character behaves like a giddy teenager instead of a 35 year old. If I could describe it as anything it would be sub-Diana Gabaldon and sub-chick lit. Two genres which have obviously heavily influenced the book. Recommended only for when you need a book where you don't need to engage your brain.
Review by pauliharman
16/06/2015
First in a series. An average American woman finds herself swapping places with a high priestess in a parallel fantasy world. Within hours she's married to a centaur, having out-of-body experiences and battling hordes of vampiric monsters - not to mention ministering to smallpox victims. Life's never dull, eh?
Review by nicola26
16/06/2015
I ended up enjoying this a lot more than I thought I would starting out. The beginning was pretty weak and just not compelling at all. Shannon felt so whiny and pretentious. I was about to give up on the book is she made one more ''pun'' (which was always followed by an explanation as if the reader is stupid) or compared any other random thing to a book or poem she'd read. It was just so irritating and pointless. <br/><br/>Once she got to Partholon though, it got really, really good. I thought it was fascinating watching her try to fit into the new world and act as if she belonged there. ClanFintan was a really interesting character and his conversations with Rhea were always amusing. I thought the plot was pretty good though I don't think the main conflict was developed enough and sort of just fizzled out at the end.<br/><br/>In comparison with The House of Night series, it is written a lot better and the characters are not as stereotypical. <br/><br/>One thing I would like is to see how Rhiannon is getting on in Shannon's world.