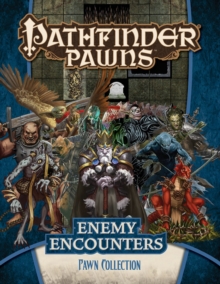 Pathfinder Pawns: Enemy Encounters Pawn Collection
Game
Description
Enemies abound, and finding them is no difficult taskin this dangerous world.
Thankfully there are plenty of brave adventurerswilling to pit themselves against those that raid and pillage society.
Thiscollection of dozens of pawns features groups of common enemies to use with thePathfinder RPG or any tabletop fantasy roleplaying game, as well as a selectionof useful terrain features to bring your encounters to life on the map.
Printedon sturdy cardstock, each pawn contains a beautiful full-color image and slotsinto a size-appropriate plastic base from any of the Pathfinder Pawns: BestiaryBox collections, making them easy to mix with traditional metal or plasticminiatures.
The Enemy Encounters Pawn Collection is the best way to ensure thatyou've got enough threats to throw at your player's characters in everyPathfinder Roleplaying Game encounter!
Information
Format: Game
Pages: 0 pages
Publisher: Paizo Publishing, LLC
Publication Date: 16/07/2019
Category: Indoor games
ISBN: 9781640781542
Free Home Delivery
on all orders
Pick up orders
from local bookshops