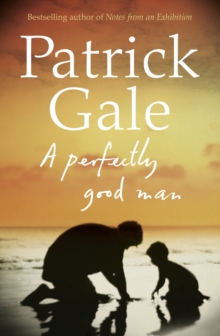 A Perfectly Good Man
Paperback
Description
The new novel from Patrick Gale, author of Richard & Judy-bestseller `Notes from an Exhibition', returning readers to his beloved Cornish coastline.`Do you need me to pray for you now for a specific reason?'`I'm going to die.'`We're all going to die.
Does dying frighten you?'`I mean I'm going to kill myself.'When 20-year-old Lenny Barnes, paralysed in a rugby accident, commits suicide in the presence of Barnaby Johnson, the much-loved priest of a West Cornwall parish, the tragedy's reverberations open up the fault-lines between Barnaby and his nearest and dearest - the gulfs of unspoken sadness that separate them all.
Across this web of relations scuttles Barnaby's repellent nemesis - a man as wicked as his prey is virtuous.Returning us to the rugged Cornish landscape of `Notes from an Exhibition', Patrick Gale lays bare the lives and the thoughts of a whole community and asks us: what does it mean to be good?
Information
Format: Paperback
Pages: 416 pages
Publisher: HarperCollins Publishers
Publication Date: 01/05/2012
ISBN: 9780007465088
Other Formats
EPUB from £5.49
CD-Audio from £17.95
Free Home Delivery
on all orders
Pick up orders
from local bookshops
Reviews
Showing 1 - 4 of 4 reviews.
Review by Carolinejyoung
16/06/2015
I wasn't too keen on the way that the book jumped back and forth in time but I enjoyed the way that the characters were depicted and how we were able to view them through the eyes of the other characters.
Review by presto
16/06/2015
Lenny, aged twenty, has determined to take his own life following a rugby accident that has left him paralysed. He summons the priest Barnaby Johnson who baptised him to pray for him; the outcome will turn the ageing priests world upside down as this seemingly unrelated event will prove to have great significance.In chapter two the account takes us back about forty years to a much younger Barnaby and the woman who is to become his wife, and subsequent chapters move about chronologically as we piece together Barnaby's life and are introduced to those who people it. Significantly these include Dot his wife, his two children Carrie and Jim, and Nuala, the Australian potter who moves into their Cornish village of Pendeen. Among others there is Modest Carlsson, the less than appealing disgraced teacher who seems to be following Barnaby from parish to parish.A Perfectly Good Man is a most engaging novel, keenly observed, often witty, and beautifully written. Patrick Gale has the ability to create fully rounded out characters who one very quickly comes to care deeply about, making this a very moving tale. Highly recommended.
Review by LARA335
16/06/2015
Beautifully written and structured. Barnaby, a parish priest, is the 'Perfectly Good Man' of the title. Each chapter is from the viewpoint of a different character in anything but chronological order. So that we get snapshots of Barnaby and the people in his world at defining moments. And this structure lifts the narrative into a sort of humanitarian jigsaw puzzle, so that at times the reader knows more than the characters when what will happen in the future has already been shown.In this quiet novel,at times so moving I had to stop reading on the train as tears were sliding on to the page, Gale thoughtfully and with deep compassion covers a lot of ground, about relationships, sexuality, identity. I could go on, instead have immediately ordered another Gale from RISI.
Review by jayne_charles
16/06/2015
Another great read from Patrick Gale. I don't think he is capable of writing a bad book. This is stylistically similar to the excellent "Notes from an Exhibition" and borrows some of its characters too.The focus of the novel is Barnaby, a priest in a small Cornish town, who faces a crisis in the opening chapter. From there the narrative moves backwards and forwards in time, revealing complexities in relationships and personalities and examining the basis of Barnaby's own religious convictions. There were surprises – not least how long it took for the gay character to emerge – and for me some consternation over the exact pronunciation of the name Phuc. (Some way in it is helpfully pointed out that it rhymes with look and not luck, but where I come from they're both pronounced the same so not much help at all really)Because it isn't told in strictly chronological order, my overall impression was less about a chain of events and more about a series of memorable scenes and razor sharp observations. I loved the image of the journalists huddled at the back of the church 'as if for courage'. And Carrie's failure to share her friends' obsession with makeup ("she had disliked games like this since they had ceased to feel like games") – I felt exactly like this myself as a child. The notes at the back of my copy, which included an interview with the author, were interesting too. I had thought the novel's structure – hopping between characters at different stages of their lives – was pretty random, but it turns out there was a structure and a pattern to it after all.