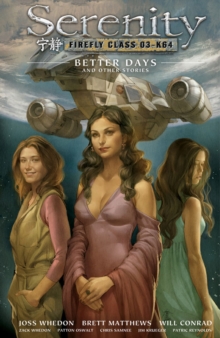 Serenity Volume 2: Better Days And Other Stories 2nd Edition
Hardback
Information
Format: Hardback
Pages: 128 pages, 1 Illustrations, unspecified
Publisher: Dark Horse Comics,U.S.
Publication Date: 30/08/2011
Category: Science fiction
ISBN: 9781595827395
Free Home Delivery
on all orders
Pick up orders
from local bookshops
Reviews
Showing 1 - 5 of 8 reviews.
Previous | Next
Review by usagijihen
16/06/2015
I'm SO glad they finally reprinted one of the three volumes and with all of the one-off comics that hadn't been published anywhere but in random omnibus collections from Dark Horse so far. ;_; I really am. Especially "The Other Half", as I have a huge soft spot for Wash in my silly little heart. The art has been gorgeously updated, now in hardback for the first time, and if you're a Firefly/Serenity/Joss Whedon fan, this updated version of "Better Days" definitely belongs in your collection."Better Days" takes place before "Serenity" (the film) but after the "Firefly" series, and is basically a fun romp with the old gang on a job gone wrong. Well, more like, when is a job of theirs NOT going wrong?I have to say, one of my favorite part of "Better Days" was always anything with Jayne. Especially when he's cursing in Mandarin, which Dark Horse purposely doesn't bother to translate because some facial expressions are pretty much universal. And the references to "The Hero of Canton" made me shriek with joy. If you want to go back to the good old days with the entire team on board of Serenity, "Better Days" is definitely the good fun you want to read. Such shenanigans. (Bonus! If you love River and/or Simon, don't miss the scene after The Job Gone Wrong with them. It'll make you wish for a happy ending for them even harder.)"Float Out" is one of the newly available stories previously only in other Dark Horse multi-author/series omnibuses, and is heartbreaking it not only opens the old wound of the ending of "Serenity", but it also very briefly shows us how Zoe is holding up after those events. In short, "Float Out" is an epitaph to Wash and all he was, both the good and the bad, and the very silly. I kind of wish that they'd continued it longer than they did when it comes to what's going on with Zoe (I won't spoil it for you, read it yourself!), but at the same time, I've gotten used to Whedon's open-ended answers, so I'm okay with it. I guess it just makes miss Wash and his addition to the family of Serenity all the more. Oh, and did I mention? Jo Chen (master of the "Buffy Season 8? early covers) did the alternate cover for this one, and it's included early in this volume.And then there's "The Other Half", which is River "proving" herself on a job with not being permanently crazy and saving the rest of the crew from our good friends the Reavers. I'm glad River got her own little side story and props for saving them so many times with her Alliance-induced psychic abilities/psychosis. It ended on such a good note, and I just kind of wanted to hug River forever by the last page. This is another story that takes place before "Serenity", but not by much, I'm guessing. As no one's really officially released a canon timeline of the Firefly/Serenity 'verse, it's kind of hard to tell.Lastly, there's "Downtime", another tale before "Serenity", with hilarity of the snowbound and venereal disease sort, and once again, Jayne takes the cake with being the most hilarious, closely followed by Zoe and Wash as the must adorable couple, and River, as…well, the most kick-ass. There's an afterword by Adam Baldwin, the Man They Call Jayne himself, talking about his manly feelings about the series, the film, and its cancellation, and more supplemental cover art by Jo Chen to boot!So really, this is a treasure trove of (somewhat) new stuff with the Serenity crew. I'm glad I didn't buy the previous softcover version (I'd bought all of the issues of "Better Days" when they were on the newsstand, and since the previous edition didn't have any extras, I hadn't and still don't see a point in buying that edition) because now I have the chance to own a second hardcover edition of the "Serenity" comics. "Downtime" sets things up for the final volume (so far), "The Shepherd's Tale", which is all about Book (and the big secret he's been holding throughout the series, film, and comics thus far). I really hope they release a hardcover copy of that volume as it's just as lovely as this one.Dark Horse, great work as usual with catering to the fans. It just makes us love you (and your products, therefore giving you our money) all the more. Let's hope that the signal never stops, and that like "Buffy", this series continues to get love (and occasional goodies, like this volume) for years to come.(posted to librarything, shelfari, goodreads, inreads, and witchoftheatregoing.wordpress.com)
Review by Jannes
16/06/2015
 Probably ma favourite of the Serenity comics, it catches the tone and style of the series well, both the action and the characters. It is well drawn, well plotted and overall a very well made bit of entertainment. The additional material in this second edition is also very welcome.
Review by wyvernfriend
16/06/2015
This is infill stories, some before, during and after the series and film. I wouldn't recommend reading the last story without having seen the film, and honestly this is best if you know the backstory and the characters. It was an enjoyable read and I wouldn't mind owning a copy. The last panel brought a smile to my face!
Review by bragan
16/06/2015
The second collection of comics based on <I>Firefly</I> and its cinematic sequel, <I>Serenity</I>. This one consists of four short stories; the title tale is two issues long, and the others are all only one. Generally speaking, I found the plots unimpressive and the collection as a whole a bit uneven, but there's some great character moments and a fair amount of that always-fun Joss Whedon dialog. Far and away the best of the four is "Downtime," which has no plot at all, but just features the characters being themselves as the <I>Serenity</I> sits planetbound due to a snowstorm. Except for the last one, all of these are set sometime during (or maybe just after) the TV series. The last, "Float Out," is a little tribute to Wash, which is sweet, although I think I would have enjoyed it more if we'd seen more Wash and less of characters we don't really know or care about.All in all, it's definitely better than the disappointing first installment, and probably worth a look, but it still really didn't scratch my itch for more <I>Firefly</I> very well.
Review by Shirezu
16/06/2015
The second volume in the Serenity graphic novels this one contains the story Better Days as well as a collection of other single issue stories. Spread out from before Firefly to after Serenity this adds a lot more to the Firefly universe.<br/><br/>Namely that River is fucked up and that Wash will always be the best character.