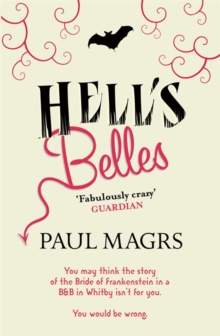 Description
The new mystery in the Brenda & Effie series featuring the Bride of Frankenstein in WhitbyPenny is running away from a life of domestic strife and into mysterious Whitby - where she hopes to find herself.
But in her quest for self-discovery, Penny may have stumbled on something far more sinister: the gateway to hell.
For Whitby is no ordinary seaside resort, and all that keeps the evil at bay are Brenda and Effie - two very unusual old ladies.
When a film crew comes to town to remake the sixties schlock horror movie Get Thee Inside Me, Satan, Brenda and Effie suspect something strange is afoot.
Female lead Karla Sorenson is reprising her role and she doesn't look like she's aged a day.
Surely that's not possible? Then there are the disturbing rumours surrounding the original movie - a cult classic that is, quite literally, spell-binding.
As events spool out of control, Penny's new boss Robert draws her deeper into the movie's peculiar mystery.
But can it be stopped before all hell breaks loose?
Information
Format: Paperback
Pages: 512 pages
Publisher: Headline Publishing Group
Publication Date: 01/04/2010
Category: Fantasy
ISBN: 9780755346462
Free Home Delivery
on all orders
Pick up orders
from local bookshops
Reviews
Showing 1 - 2 of 2 reviews.
Review by LyzzyBee
16/06/2015
20 May 2010More adventures of Brenda & Effie... but there's a new girl in town...Where Karla Sorenson goes, trouble seems to follow. So when Karla comes to Whitby to remake her famous film "Get Thee Inside Me, Satan", during the filming of the original version of which, it's rumoured, the Devil himself was conjured up, trouble with a capital T seems bound to ensue. Then she decides to stay at the decidedly dodgy Christmas Hotel, scene of murder, cannibalism and nasty pies. And to make the film up by the Bitch's Maw. On Hallowe'en. During Goth Weekend...Meanwhile, we have another new girl in town in the shape of innocent Penny; like the young couple in Rocky Horror, she has no idea of what she's getting herself into. Fresh out of a difficult marriage and enjoying a gothic persona, she's keen on Michael at the new coffee bar and starts work at one of the hotels. She's heard of Karla's film, but never seen a copy, until...Meanwhile (again), Robert's got himself a new feller with a magic sofa; trouble is, he's a little bit elusive and mysterious. Will he step up to the mark when it really matters? I do like Robert...And meanwhile (keeping up?) Brenda's settling in to a new relationship and Effie's a tiny bit miffed, having mislaid her chap in a rather unpleasant location a book or so back.When all of these strands collide, well, we get the usual delicious mix of characters, plot, and the characteristic undermining of pomposity by a well-placed prosaic detail, at which Mr Magrs excels.Warning: this one went RIGHT up to the edge of my feeble ability to stomach yucky things - not one to read over your breakfast, maybe. But then again, Karla starred in that brain-eating one I couldn't finish, so that's hardly surprising.And, of course, I can't wait for the next installment...!
Review by polarbear123
16/06/2015
Entertaining. I'll qualify that by saying there are a couple of issues with this set of books. Every so often there is a turn of language that grates with me - one example that springs to mind is the use of 'mad keen' several times. Also the story is wild yes but it is not half as clever as the similar style of storytelling that you get from the Malcolm Pryce Aberystwyth novels. Still th story keeps chugging along, four books in and I am still going to read the next one. So Magrs must be doing something right!