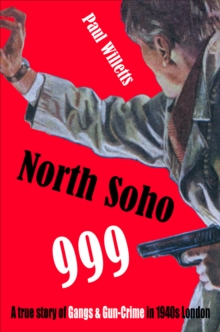 North Soho 999 : A True Story of Gun-crime in 1940s London
Paperback
Description
"North Soho 999" is a surprisingly topical non-fiction account of the murder that came to symbolise the crimewave threatening to overwhelm post-war London.
Set in bomb-scarred London in 1947, it is the untold story of a Soho robbery and shooting carried out by a 17 year-old and his two young accomplices.
The crime sparked worldwide press coverage and was associated with a single, potent image; a photograph of the dying man stretched across the pavement.
Much of the press reaction at the time focused on the breakdown of law and order, rising youth crime, the spread of illegal firearms and the deterrent value of capital punishment - concerns that are frequently echoed today. "North Soho 999" concentrates on the hunt for the killers and the subsequent trial, with Willetts' approaching the story very much as Truman Capote did in his classic, "In Cold Blood". One of this country's biggest and most extraordinary murder-hunts, it brought together the pioneering forensic pathologist, Sir Bernard Spilsbury; the hangman, Albert Pierrepoint; the crusading journalist, Duncan Webb; and the Scotland Yard detective, Bob Fabian whose dazzling detective work led to the creation of "Fabian of the Yard", the world's first hit television cop show.
It also led to a major appeal by "The Daily Mail" on behalf of the murder victim's family, questions in Parliament and the making of the film, "The Blue Lamp", a huge box office success starring Dirk Bogarde.
Paul Willettts' last book, "Fear and Loathing in Fitzrovia", the biography of Julian Maclaren-Ross, received wide critical acclaim and was selected as a 'Book of the Year' by several national newspapers.
Paul Willetts lives in Norwich.
Information
Format: Paperback
Pages: 288 pages, 50 black and white
Publisher: Dewi Lewis Publishing
Publication Date: 05/03/2007
Category: True crime
ISBN: 9781904587453
Free Home Delivery
on all orders
Pick up orders
from local bookshops