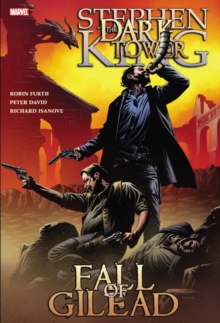 Dark Tower: The Fall Of Gilead
Hardback
Information
Format: Hardback
Pages: 208 pages, 1 Illustrations, unspecified
Publisher: Marvel Comics
Publication Date: 02/02/2010
Category: Comics and Graphic Novels
ISBN: 9780785129516
Free Home Delivery
on all orders
Pick up orders
from local bookshops
Reviews
Showing 1 - 5 of 6 reviews.
Previous | Next
Review by sweetiegherkin
16/06/2015
The fourth omnibus book in the Dark Tower "prequel" graphic novels picks up where the last book ended, using the same textual mix of poetry and suspense. However, this book suffers from the loss of half the illustration team – namely, Jae Lee. Illustrator Richard Isanove valiantly strides on, but his illustrations fall under the "close but no cigar" clause. His artwork does not reach anywhere near the beauty of Lee's (even when grisly, Lee's art in the series was always mind-blowing beautiful in execution), and the characters no longer look like themselves. It's as if a faithful follower of a television series turned it on one day to find the entire cast had been replaced with new actors. It's one thing for long-running comics, such as Batman and X-Men and so on, to change illustrators (and even authors), but it was very disappointing to see it happen in this series. So while the story was as engaging as ever, I couldn't be quite as thrilled by this book as I had been with the rest of the series that contained the illustrations I love. Fortunately, it looks like Lee is back for the next book in the series, and I look forward to that.
Review by lithicbee
16/06/2015
Okay, so this volume is called The Fall of Gilead, so that should be a slight hint as to what happens in its pages. Also, by the time Stephen King's first The Dark Tower novel begins, Roland is evidently the last of his people, so one should not be surprised when the bodies start falling here. The question is, though, do I need to read about all the death? I'm still trying to figure out if I'm enjoying this bleak series or not; on the one hand, I do find the world interesting and it provides some nice back-story to the books, especially the parts about Sheemie. On the other hand, man, depressing. In the first two volumes, Jae Lee's crisp, cool artwork more than made up for it. In the third volume, Treachery, I felt that Lee's art lost a bit of its luster. In this volume, Richard Isanove takes full art duty and while his art is good enough, the characters felt more doughy/pudgy to me than Lee's original sleek style for this series. Oh well, I will probably still pick up Battle of Jericho Hill when it comes out--wonder how that turns out?--but most of all I think I will need to re-read the original seven novels soon to really appreciate the world that King wove together over decades.
Review by readafew
16/06/2015
Fall of Gilead continues the tale of Roland and his ka-tet as Roland is in jail for being tricked into killing his mother by Maerlyn's Grapefruit. Farson's nephew was killed after being discovered a spy and Marten is running around causing trouble and trying to tidy things up for himself. Little does Gilead know that Farson has set his sights on them and already has traitors in the gates softening up the city for it's downfall.This series is interesting and I still haven't read any of King's Dark Tower novels. As a comic series I think I'd find this a little slow and lacking in story, but since I'm reading them in the combined 5-6 comic sets it hides this somewhat.I liked the series, the artwork is incredible. This is a fairly gruesome and gritty bit of artwork so not for the squeamish.
Review by Daniel.Estes
16/06/2015
One charm from this collection is the inclusion of the single-issue comic <i>The Sorcerer</i>, which stands alone from <i>The Fall of Gilead</i>. This prologue gives a proper introduction to Marten Broadcloak, aka the principal orchestrator of Gilead's takedown and Roland's lifelong nemesis.The larger story is the climax of a once-great empire succumbing to its inevitable downfall. Each chess piece placed since the start of the comic book series is now in position to strike. Behold the end of era.
Review by questbird
16/06/2015
Nicely illustrated and plotted story. Things come to a head in the world of the Dark Tower, culminating in, well, the Fall of Gilead. I enjoyed this one a lot. It is a very dark fantasy, and lots of bad things happen. Roland is out of the picture for most of this book, and Steven Deschain is the focus. There is also a great prologue in which the wizard Marten Broadcloak's motivations are made clear.