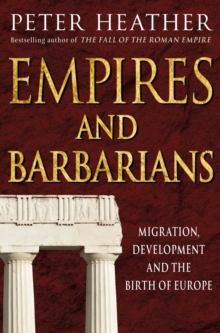 Empires and Barbarians : Migration, Development and the Birth of Europe
Paperback
Description
At the start of the first millennium AD, southern and western Europe formed part of the Mediterranean-based Roman Empire, the largest state western Eurasia has ever known, and was set firmly on a trajectory towards towns, writing, mosaics, and central heating.
Central, northern and eastern Europe was home to subsistence farmers, living in wooden houses with mud floors, whose largest political units weighed in at no more than a few thousand people.
By the year 1000, Mediterranean domination of the European landscape had been destroyed.
Instead of one huge Empire facing loosely organised subsistence farmers, Europe - from the Atlantic almost to the Urals - was home to an interacting commonwealth of Christian states, many of which are still with us today .
This book tells the story of the transformations which changed western Eurasia forever: of the birth of Europe itself.
Information
Format: Paperback
Pages: 752 pages
Publisher: Pan Macmillan
Publication Date: 01/03/2010
Category: European history
ISBN: 9780330492553
Free Home Delivery
on all orders
Pick up orders
from local bookshops
Reviews
Showing 1 - 2 of 2 reviews.
Review by annbury
16/06/2015
Marvelous history of the barbarianization of Europe, and of the Europeanization of the barbarians, covering (mostly) 300-1000AD. This book is full of ideas as well as of standard history, much amplified by the introduction of archaeological evidence. It focuses on the debate between the old-fashioned interpretation of what happened (migration led to the fall of Rome, and to most of what followed) and the more modern view that internal evolution explains the history of the period. Heather concludes that it was both, and makes persuasive arguments -- some of which still apply. A wonderful book.
Review by 100yards
16/06/2015
A long book. 734 pages in the paperback edition. Scholarly apparatus of maps, notes, primary sources and bibliography. This is the time of the Völkerwanderung when all roads, so it seemed, led to the Eternal City. This was the process that shaped the birth of Europe as we have come to know it.The consideration includes Huns, Franks, AngloSaxons,Slavs and Vikings – and Charlemagne's 'United Europe'.Peter Heather is Professor of Medieval History at King's College London.I feel bound to give this the 5-star award.francis cameron, oxford, 28 august 2010