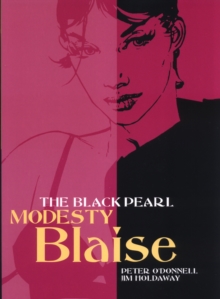 Modesty Blaise - the Black Pearl
Paperback
Description
She's beautiful with a bullet! Modesty Blaise the cult creation of best-selling author Peter O'Donnell returns for another searing slice of '60s chic thrills set in a shadowy underworld of espionage and mystery.
In the wilds of Tibet, Modesty battles to repay the debt she owes to an ancient mystic who once saved her life by retrieving the mysterious Black Pearl.
Before her stand marauding bandits, the might of the Himalayas and the power of Red China!
Also collecting The Magnified Man, The Jericho Caper and The Killing Ground, the fourth volume in this spectacular Titan series is packed with rare interviews, exclusive story introductions and masses of rare and previously unseen artwork!
Information
Format: Paperback
Pages: 112 pages
Publisher: Titan Books Ltd
Publication Date: 17/12/2004
Category: Thriller / suspense
ISBN: 9781840238426
Free Home Delivery
on all orders
Pick up orders
from local bookshops
Reviews
Showing 1 - 1 of 1 reviews.
Review by jjmcgaffey
16/06/2015
Four stories in this book. The Black Pearl is cute, but it feels a little too scripted - partly because of the karma thing but mostly because the lama knows what's going to happen next. Several cute bits, mostly involving Willie being dumbfounded, but nothing wonderful. The Magnified Man is, again, good but nothing special. Willie blowing the girl's cover is interesting mostly because it's Modesty that does it - to someone else - in the books. The rest is a reasonably simple Modesty and Willie caper. Then The Jericho Caper - I don't quite get the title, they didn't bring down any walls, but it's a cute name. And when I read what happened to Torres' sight, I knew what would happen at the end. Oh, another echo - there's a short story about an artist doing a Modesty statue and worrying about the line of her head and neck. Good but not wonderful. And the last one is the short bit that was interpolated in The Galley Slaves to cover the strike in London - the only strip story that got translated completely into a book (short story, actually). The Killing Ground. Not bad, but I wonder how they made it come out right for time - Modesty wonders why the game was set up to be short, I wonder the same thing. Did they know how long the strike would run when they (he) wrote the story? Interesting. The story itself is quite minor, in several senses - physically short, little depth to it, not much of a challenge. Again, not bad but nothing much.