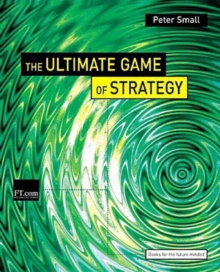 The Ultimate Game of Strategy
Paperback
Description
The internet can no longer be referred to as a new phenomenon - it is an integral part of work and life in the 21st century and it's here to stay.
However it is in a constant state of flux, and this change and volatility are central to its power and effectiveness.
Succeeding in a complex, shifting and overwhelming environment like the internet, renders traditional business planning and management theory useless. And those who have tried to force the rules of bricks and mortar business on to e-commerce or have judged internet proposals on conventional terms have failed spectacularly. Peter Small throws out the conventional rule book and with The Ultimate Game of Strategy analyzes the fresh mindset and skill sets - ultimately the new conceptual models you will need to equip yourself with to play and win in the world of e-business. Establishing your successful niche in the lucrative world of e-business is not about competing to win money or rewards - it is about winning co-operation.
Mutual benefit holds the key to becoming a winner - this game is about getting and keeping attention and co-operation both from other players and from customers.
It is a game that is 99% about communication and only 1% about technology. Using game theory and practical examples, Peter Small explains how, by building up a network of collaborative associations with the people who know about and use the technology, and with customers and clients, you can create e-business solutions that can readily adapt to customer needs, technological change or competitive moves.
He provides a practical toolkit that will allow you to build the kind of personal communications networks that will enable you to establish your own niche in the world of e-business, and to grow it successfully and profitably.
Information
Format: Paperback
Pages: 352 pages
Publisher: Pearson Education Limited
Publication Date: 05/12/2000
Category: E-commerce: business aspects
ISBN: 9780273649991
Free Home Delivery
on all orders
Pick up orders
from local bookshops