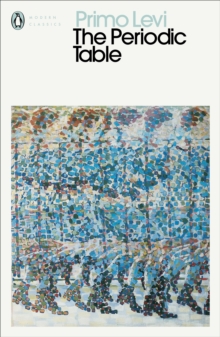 The Periodic Table
Paperback
Description
Primo Levi's The Periodic Table is a collection of short stories that elegantly interlace the author's experiences in Fascist Italy, and later in Auschwitz, with his passion for scientific knowledge and discovery.
This Penguin Modern Classics edition of is translated by Raymond Rosenthal with an essay on Primo Levi by Philip Roth.A chemist by training, Primo Levi became one of the supreme witnesses to twentieth-century atrocity.
In these haunting reflections inspired by the elements of the periodic table, he ranges from young love to political savagery; from the inert gas argon - and 'inert' relatives like the uncle who stayed in bed for twenty-two years - to life-giving carbon. 'Iron' honours the mountain-climbing resistance hero who put iron in Levi's student soul, 'Cerium' recalls the improvised cigarette lighters which saved his life in Auschwitz, while 'Vanadium' describes an eerie post-war correspondence with the man who had been his 'boss' there.
In his essay, Philip Roth reproduces a conversation with Primo Levi, delving into the process of Levi's authorial technique, his sense of identity and distinctiveness and the relationship between science, writing and survival.Primo Levi (1919-87), an Italian Jew, did not come to the wide attention of the English-reading audience until the last years of his life.
A survivor of the Holocaust and imprisonment in Auschwitz, Levi is considered to be one of the century's most compelling voices, and The Periodic Table is his most famous book.
Levi is the author of Moments of Reprieve and If Not Now, When?, also available in Penguin Modern Classics.Philip Roth is the author of Nemesis and The Plot Against America, and winner of the both the Pulitzer prize, and the Man Booker International prize.
If you enjoyed The Periodic Table, you might like Levi's If Not Now, When?, also available in Penguin Modern Classics.'A book it is necessary to read'Saul Bellow, author of Herzog'One of the finest writers in post-war Italy'The Times
Information
Format: Paperback
Pages: 224 pages
Publisher: Penguin Books Ltd
Publication Date: 07/09/2000
Category: Prose: non-fiction
ISBN: 9780141185149
Other Formats
Paperback from £6.09
Hardback from £8.35
CD-Audio from £21.35
Free Home Delivery
on all orders
Pick up orders
from local bookshops
Reviews
Showing 1 - 2 of 2 reviews.
Review by Helenliz
16/06/2015
 I'm really not sure what I expected from this, but it was enthralling, nonetheless. Primo Levi uses elements of the periodic table to tell autobiographical snippets of his life. some of them have a concrete relationship to the element of the title, like the Tin they were using to make mirror backs. Some are less obvious, iron is about a college (I think) colleague with whom he went mountaineering - maybe not always following the strictest protocol. this puts an iron in his soul (toughens him up, maybe) and so relates to the elements name in a more indirect manner. They snippets play out is approximately chronological order, starting with his family, progressing through college and then it comes to his experiences during the war and his internment in Auschwitz. He writes of this with seemingly little bitterness, it is very factual and matter of fact - almost understated - and all in beautiful prose. It almost belies what you're reading to read it expressed in this way. It's a really quite startling read in some respects, yet it is told from the comfort and security of old age such that you experience it at a distance. A really worthy book.
Review by mbmackay
16/06/2015
This is a quirky book by an Italian survivor of Auschwitz. Rated as one of the best science books ever written, I found it worked better when viewed as a memoir. Levi had written elsewhere of his war experiences, and the awful events he faced during WW2 form more of a background here. He uses various elements from the periodic table to serve as triggers/themes for a collection of stories about his life as a chemistry student and professional. Wonderfully understated, the result works. I feel I now know a little bit of the man, and of his working life as an industrial chemist. The edition I read had an introductory chapter by Philip Roth which helped by giving me background I would have otherwise lacked. Read March 2014.
Also in the Penguin Modern Classics series | View all