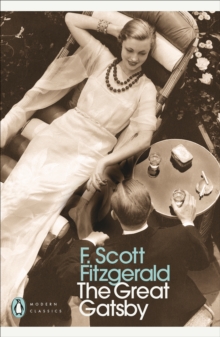 The Great Gatsby
Paperback
Description
Now the subject of a major new film from director Baz Luhrmann (Romeo+Juliet, Moulin Rouge!), starring Leonardo DiCaprio and Carey Mulligan, The Great Gatsby is F.
Scott Fitzgerald's brilliant fable of the hedonistic excess and tragic reality of 1920s America.
This Penguin Classics edition is edited with an introduction and notes by Tony Tanner.Young, handsome and fabulously rich, Jay Gatsby is the bright star of the Jazz Age, but as writer Nick Carraway is drawn into the decadent orbit of his Long Island mansion, where the party never seems to end, he finds himself faced by the mystery of Gatsby's origins and desires.
Beneath the shimmering surface of his life, Gatsby is hiding a secret: a silent longing that can never be fulfilled. And soon, this destructive obsession will force his world to unravel.In The Great Gatsby, Fitzgerald brilliantly captures both the disillusionment of post-war America and the moral failure of a society obsessed with wealth and status.
But he does more than render the essence of a particular time and place, for - in chronicling Gatsby's tragic pursuit of his dream - Fitzgerald re-creates the universal conflict between illusion and reality.Like Jay Gatsby, F.
Scott Fitzgerald (1896-1940) has acquired a mythical status in American literary history, and his masterwork The Great Gatsby is considered by many to be the 'great American novel'.
In 1920 he married Zelda Sayre, dubbed 'the first American Flapper', and their traumatic marriage and Zelda's gradual descent into insanity became the leading influence on his writing.
As well as many short stories, Fitzgerald wrote five novels This Side of Paradise, The Great Gatsby, The Beautiful and the Damned, Tender is the Night and, incomplete at the time of his death, The Last Tycoon.
After his death The New York Times said of him that 'in fact and in the literary sense he created a "generation" '.'A classic, perhaps the supreme American novel' John Carey, Sunday Times Books of the Century
Information
Format: Paperback
Pages: 240 pages
Publisher: Penguin Books Ltd
Publication Date: 22/02/2000
ISBN: 9780141182636
Other Formats
Paperback from £2.50
Hardback from £8.35
CD-Audio from £8.59
from £9.95
Free Home Delivery
on all orders
Pick up orders
from local bookshops
Reviews
Showing 1 - 5 of 18 reviews.
Previous | Next
Review by Clurb
16/06/2015
Reading this for the first time I wasn't at all impressed. There seemed to be no plot development until three quarters of the way in and the characters were distant and hard to understand. It was only after real study that the layers of symbolism began to unfold for me and the melancholy story of the American dream started to make sense.
Review by soylentgreen23
16/06/2015
One of those books every bibliophile <i>has</i> to read, and for good reason. It's one of the most superbly written short novels, a perfectly crafted love story.More recently I came across a fiction-writing helpbook that spends a whole chapter looking at the first scene in the novel, breaking it down bit by bit analysing why it works so well. We know intuitively when something works, but it's interesting to see that there's a set of conscious decisions that lead to that happening.
Review by Greatrakes
16/06/2015
This is the first Fitzgerald I have read and I was disappointed. It seemed a bit too clinical, as though Gatsby was determined to write 'The Great Novel'. It follows the proper tradition, a narrator (Nick Carraway) tells the story, it's beautifully structured, the prose is exact and polished. But I didn't care whether any of the characters lived or died, to the extent that if I had left the book on the train, I wouldn't have bothered to get another copy to find out what happened to them.I had the idea before I read it that it was the story of Gatsby's love for Daisy, but it seemed, to me, more like the story of Nick Carraway's love for Gatsby.Oddly, the story has grown on me, and I like it more now than when I finished reading it.
Review by chocolatechip
16/06/2015
well, i wouldn't exactly call it one of the greatest American novels ever written, but it was still good, though i would not have gotten along with any of the characters had i met them. the book is mostly about failed marraiges and hypocrisy
Review by kaionvin
16/06/2015
The obsession with wealth never ceases. Would people die of soul-crushing existential despair if rich people were portrayed as... happy? Novels/movies/TV shows- they all exploit our want for wealth by showing it, with plenty of glitzy excess. And they exploit the fear we feel because we don't have wealth, by portraying the rich as incredibly miserable. There exists a limbo, a capitalist ambiguity.I can definitely see why <i>The Great Gatsby</i> is it's a classic- it captures a place and a time (the rich, NY, 1920s), a movement (excess, jazz), and ties it into the American Dream (money, ambition, class). And it's in these descriptions of the era that Fitzgerald really shines- the first half of the novel is full of deft descriptions that evoke so concisely that era you can practically touch the cars and the pearls and furs and the smoke. And this era is driven by the undercurrent of change- the emergence of modern man and woman and the new society.I guess I never bought into the plot developments, which were sort of classic melodrama, which was very jarring in comparison to what was at first spot-on cynical social commentary by the narrator, Nick. The (born)-'poor' all die tragically; the rich are all asses; it all falls into an almost blase territory for me.I will say I admired the character of the titular Jay Gatsby. He wanted something, and he knew how to fake it until he made it. And he was a success too, except for his fatal flaw of love (ain't it always) that was the driving factor to become rich in the first place. (But I didn't appreciate that oh-so-old device of the woman unfaithful in love for money.)Nick and Jordan's relationship is very interesting though, the tenuous trying-to-suss-out the power give and take between the new modern man and the new modern woman. I wish that part had been elaborated upon.
Also in the Penguin Modern Classics series | View all