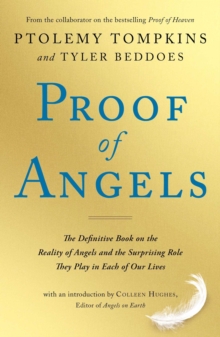 Proof of Angels : The Definitive Book on the Reality of Angels and the Surprising Role They Play in Each of Our Lives
Paperback / softback
Description
In March 2015, people were captivated by news reports of the dramatic rescue of an 18-month old girl, Lily Groesbeck, who'd survived fourteen hours in an overturned car, submerged in an icy-cold Utah river, after her mother apparently lost control of the vehicle.
Police officers arrived at the scene and heard a woman's voice spurring them on: 'Please hurry, there isn't much time.' Yet, once the two victims were recovered, it was clear the voice could not have come from Lily's mother: she'd been killed on impact.
How to explain this modern-day miracle? Ptolemy Tompkins, New York Times bestselling collaborator, with the help of responding officer, Tyler Beddoes, will do just that.
PROOF OF ANGELS will be the first mainstream trade book to effectively address a topic that has captivated individuals across cultures, age groups and religious beliefs for centuries.
This deeply engaging, hard-hitting book is poised to do for angels what PROOF OF HEAVEN, the internationalbestseller by Eben Alexander on which Ptolemy Tompkins collaborated, did for Near Death Experiences. Tyler Beddoes' compelling story launches a sweeping inquiry into the evidence supporting the existence of spiritual beings.
Weaving real-life stories into a rich narrative exploring the history, nature and significance of angels in our lives, this book will appeal to the enormous audience that has bought books such as PROOF OF HEAVEN.
PROOF OF ANGELS is poised to join the ranks of major bestselling inspirational titles by offering readers not only a highly entertaining look into a universally fascinating topic but by also delivering a fresh, well-constructed and deeply reassuring message: we are not alone.
Information
Format: Paperback / softback
Pages: 208 pages, tbc
Publisher: Simon & Schuster Ltd
Publication Date: 11/02/2016
Category: Spirit guides, angels & channelling
ISBN: 9781471156243