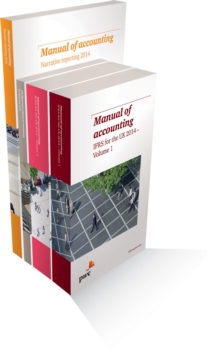 PwC Manual of Accounting IFRS for the UK 2014 PACK
Multiple copy pack
Description
PwC's Manual of Accounting IFRS for the UK 2014 PACK provides comprehensive practical guidance on the IFRSs issued by the IASB and the accounting requirements of UK law applicable to UK users of IFRS, as well as the other elements that make up IFRS for the UK.
This pack will help UK companies who report under IFRS understand exactly what is required of them. Please note, guidance on financial instruments (previously available in the separate title Manual of accounting - Financial instruments) is now incorporated into Manual of accounting IFRS for the UK 2014 Vol. 1. This pack comprises the following 4 volumes:Manual of Accounting IFRS for the UK 2014 Vol. 1 and Vol. 2:Key updates from previous edition includeUpdated guidance on:IASB's annual improvements 2011 effective 1 January 2013; andStandards, amendments and interpretations effective 1 January 2013 including IFRS 7, IAS 19 (revised), IAS 27 (revised), IAS 28 (revised), IFRS 10, 11, 12, 13 and IFRIC 20; and amendments to IAS 1, IFRS 1, 10, 11, 12;New chapters on investment entities and separate financial statements;New and updated illustrative examples. Manual of Accounting Narrative Reporting 2014:This year's edition provides guidance for UK quoted companies on the `front half' of financial statements, including many illustrations and examples. Key updates from previous edition include:Updated guidance for new external guidance and legislation includingFRC UK Corporate governance code and2013 Statutory instruments regulations;New real-life examples from accounts. UK Illustrative Financial Statements for 2013 year ends:This publication provides three example sets of financial statements for the year ended 31 December 2013.
This edition includes the following updates:IFRS GAAP Plc - updated to illustrate the disclosure and presentation requirements of the IFRS standards and interpretations, changes to UK Company law and reporting requirements for listed companies for financial years beginning on or after 1 January 2013.
Significant changes to the financial statements include the application of IFRSs 10, 11, 12 and 13 together with IAS 19 and the IAS 1 presentation changes to Other Comprehensive Income.
Significant changes to narrative reporting include:Strategic report requirements and related amendments to the Directors' report for listed companies;Disclosure and presentation requirements of the Directors' Remuneration Report;Updated UK Corporate Governance disclosures;Updated illustrative Auditor's report for listed companies. It also includes appendices providing illustrative financial statements relating to: Alternative presentation of cash flows and statement of comprehensive income;Biological assets;Oil and gas exploration assets;Current and forthcoming requirements. GAAP UK Group Limited & UK GAAP Limited - Example financial statements prepared under existing UK GAAP.
Significant changes in narrative reporting include:Strategic report requirements and related amendments to the Directors' report for private companies;Updated illustrated Auditor's report for private companies. Previous pack ISBN: 9781780430089
Information
Format: Multiple copy pack
Publisher: Bloomsbury Publishing PLC
Publication Date: 23/12/2013
ISBN: 9781780433073