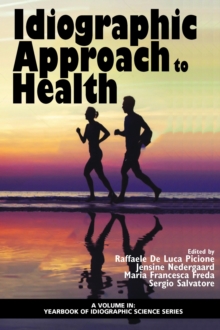 Idiographic Approach to Health
Paperback / softback
Description
The concept of health is a challenge of great complexity in terms of theoretical, methodological and intervention within the idiographic frame. Health cannot be considered an abstract condition, but a means, a resource aimed at achieving objectives that relate to the ability of people to lead their lives in a productive way- individually, socially, and economically.
Health is a process that is not based on the definition of standards and categories on the basis of which typifying the states of health.
Rather, it has to be considered a process, on a large scale and on many entangled levels, aimed at generating a culture of the health as a resource for individuals and communities and to promote skills needed to transform these resources into developmental goals. The notion of health, indeed, defined and interpreted in terms of ""state"" and not of process, meets the immediate paradox of being an indicator of normativity by reason of which we risk a proliferation of new and potentially infinite forms of ""deviation"".
The approach of the idiographic sciences (see previous volumes of the Yearbook Idiographic Science Series, by same publisher IAP) considers that every psychological process (but in general every process, from organic to the social and cultural ones) is characterized by a contextual, situated and contingent dynamics.
That dynamics is always characterized by a never-ending opening of its cycles and great variability.
Conditions of stagnation and hypostatization are characteristic of all forms of disease (physical, mental and social) that sclerotize relational links between people and their environments.
Health is therefore a process that presents oscillation in the same way of any developmental process that has moments of crisis and rupture in order to re-organize new forms of relationship with the social and cultural environment. This book represent a fruitful way to deep many cogent issues and to dialogue with an idiographic perspective in order to discuss the concept of health, to define its cultural meanings and possible polysemy (e.g., wellness, care, hygiene, quality of life, resilience, prevention, healing, deviation/normality, subjective potentiality for development, etc.), its areas of pertinence and intervention (somatic, psychological, social) trying to offer possible alternatives to the ""normalization"" of health and creating new incentives for the reflection.
Information
Format: Paperback / softback
Pages: 348 pages
Publisher: Information Age Publishing
Publication Date: 30/11/2018
Category: Health psychology
ISBN: 9781641134262
Also in the Yearbook of Idiographic Science series