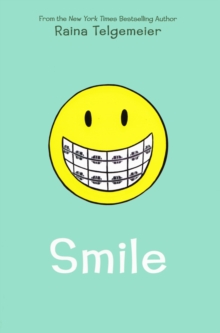 Description
Raina just wanted to be a normal girl, but one night after Girl Scouts she trips and falls severely injuring her two front teeth. What follows is a long and frustrating journey with on-again, off-again braces, surgery, embarrassing headgear and even a retainer with fake teeth attached. And on top of all that, there's still more to deal with: a major earthquake, boy confusion and friends who turn out to not be so friendly.
Free Home Delivery
on all orders
Pick up orders
from local bookshops
Reviews
Showing 1 - 5 of 68 reviews.
Previous | Next
Review by vanedow
16/06/2015
This is a very cute book. The artwork reminds me a bit of old For Better or For Worse comics, don't you agree? Raina is an adorable kid, and you just can't help but cheer for her as she deals with all the cringe-inducing problems. Very highly recommended for readers of a similar age to Raina, though I don't see this graphic novel having a lot of crossover appeal to adult readers.
Review by abbylibrarian
16/06/2015
I loved Raina Telgemeier's work on the BSC graphic novels, so I was so excited to hear about this book (and it didn't disappoint!). Raina was in the sixth grade when she tripped and fell, damaging her front teeth and jaw in such a way that it took over four years of painful dentistry to fix. This comic memoir chronicles that period in her life. Not only was Raina dealing with the tooth trauma, but she was dealing with the daily trauma (and triumphs) of middle school - fitting in, frenemies, crushes on boys... This is a coming-of-age story that will appeal to those with braces and those without. Highly recommended.
Review by savageknight
16/06/2015
Having first read the mini comics, it was an absolute blast holding the completed collection in my hands - especially as it was also in color!Reading about the dental drama that had such a profound effect on Raina was both interesting and entertaining. Although that doesn't sound like the right word to describe something so painful, the truth of the matter is that watching how she went through the rigors of adolescence with this extra burden -and the highs and lows it brought- was an important look into the life of a very nice person in the making.I especially appreciated reading about her high-school difficulties because it allowed me to see a glimpse of the "other side" of being a teenager. After all, I know what it's like for a boy to go through high school, but not really a girl. This book actually became somewhat of a reference for me in terms of approaching my 13 year old daughter, Melyssa, about what could be going on in her life.In terms of pacing, art, story... it was the same greatness I've come to expect from Raina. Her characters shine and all the emotions they express can really be felt.Raina never fails to impress and entertain and I hope to see new books from her every year. Both my daughter and I eagerly look forward to more!
Review by mountie9
16/06/2015
Jake's Review: Um Mom, this is like a girls book, do I really have to read it. Come on Jake, just try a few pages and tell me what you think. 1 hour later. Mom this is pretty good for a girls book, but I hope I never have to wear braces. It doesn't sound like its much fun and btw girls are gross! The pictures are very funny and I like that she plays video games. I didn't like the drawings of when she broke her teeth because there was too much blood -- ICKY!. I don't think my friends would like this book because they are boys and boys don't like to read girls stuff. Also I think this book is for older kids because they are talking about liking boys and other icky girls stuff. I don't like that her friends made fun of her for having braces. You shouldnt tease people (Mom's note, he said this 1 hour after teasing his 17 mth old brother) its just not nice. I like the authors drawing and the way she told the story, but I would have liked it better if it was about a boy my age. You can bring me more graphic novel though ok -- much more fun to read than books!Rating: 7/10 (I know I am surprised he gave it such a high rating)Mom's Review: I honestly didn't think Jake was going to finish this book, figured he would just read a couple of pages and than give up. Surprised that he read it all and gave me a review on it, I am very proud of him for sticking through it. I absolutely loved this graphic novel, eventhough it brought back many painful memories of my own experience with having braces. This graphic novel is sort of like a cross between a Judy Blume novel and a For Better or Worse comic. The story is written with tons of humour and portrays the awkwardness of being a teen extremely effectively. The story is fast paced, realistic and I think would appeal to the reluctant reader as well as most pre-teen and teen readers. Definately required reading for those who have or have had braces. I think it would be great if all Orthodentists had a copy of this in their offices -- and a few of them REALLY should read it (They might even learn how to be a little more sympathetic with their patients). The underlying message of encouraging us to focus more on what we are on the inside rather than how we look on the outside is very sublty done and not at all preachy. Rating: 10/10
Review by ChristineRobinson
16/06/2015
This graphic novel follows Raina from 6th grade into middle school after she trips and falls on her face, literally, damaging her teeth beyond repair. From that moment on the reader experiences the same embarrassment, fear, anxiety and sorrow that Raina feels as she experiences bullying and self-doubt. Although this book speaks to so many of the serious real life experiences of girls in junior high, Raina Telgemeier manages to depict the main charcter comically enough that the mood remains light, all the while not taking the bullying lightly. The illustrations are a perfect match to the story leaving the reader wanting more from this author.