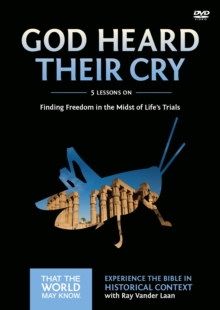 God Heard Their Cry Video Study : Finding Freedom in the Midst of Life's Trials
DVD video
Description
This five-session small group Bible study (guide sold separately) by noted teacher and historian, Ray Vander Laan, is volume eight of the That the World May Know filmed-on-location DVD and Discovery Guide series.
Vander Laan illustrates how, in ancient times, nothing was bigger than Egypt... powerful pharaohs, strong armies, and a multitude of gods.
God's people were no match against the Egyptians. In this volume of That the World May Know , discover how God answers the cry of his persecuted people and proclaims himself Lord to them and their oppressors. That the World May Know is a unique video series that brings God's Word to life with astounding relevance.
By weaving together the Bible's fascinating historical, cultural, religious, and geographical contexts, teacher and historian Ray Vander Laan reveals unique insights into the Scriptures' significance for modern believers. Filmed on location in Luxor, Egypt; Deir al Medina, Ramesseum, and the Red Sea, these illuminating "faith lessons" afford a new understanding of the Bible that will ground your convictions and transform your life.
The That the World May Know video series is ideal for use in small groups, personal and family Bible studies, and adult Sunday school.
Individual believers and families will gain vital insights from long-ago times and cultures through this innovative approach to Bible study. Lessons include:How Big Is our God? - Filmed in Luxor, EgyptIsrael in Bondage: God Heard Their Cry - Filmed at Dier al MedinaFinger of God: The Plagues - Filmed at RamesseumWatch with Me: Israel Leaves Egypt - Filmed at the Red SeaThe Lord Reigns: The Red Sea - Filmed at the Red Sea Designed for use with the God Heard Their Cry Discovery Guide (sold separately).
Information
Format: DVD video
Publisher: Zondervan
Publication Date: 08/09/2015
ISBN: 9780310879763
Also in the That the World May Know series | View all