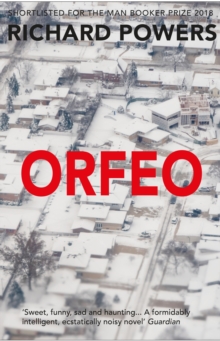 Description
LONGLISTED FOR THE MAN BOOKER PRIZE 2014Seventy-year old avant-garde composer Peter Els opens the door one evening to find the police outside.
His DIY microbiology lab - the latest experiment in his lifelong attempt to extract music from rich patterns beyond the ear's ability to hear - has come to the attention of Homeland Security. Panicked by the raid on his house, Els flees and turns fugitive, waiting for the evidence to clear him and for the alarm surrounding his activities to blow over. But alarm turns to national hysteria, as the government promises a panicked nation that the 'Bioterrorist Bach' will be found and brought to trial.
As Els feels the noose around him tighten, he embarks on a cross-country trip to visit, one last time, the people in his past who have most shaped his failed musical journey. And through the help of these people - his ex-wife, his daughter, and his longtime artistic collaborator - Els comes up with a plan to turn this disastrous collision with national security into one last, resonant, calamitous artwork that might reach an audience beyond his wildest dreams.
Information
Format: Paperback
Pages: 384 pages
Publisher: Atlantic Books
Publication Date: 31/07/2014
ISBN: 9781782391647
Free Home Delivery
on all orders
Pick up orders
from local bookshops
Reviews
Showing 1 - 3 of 3 reviews.
Review by Eyejaybee
16/06/2015
I really didn't like this book! I think that the basic storyline was rather clever, but I found the author's style of writing very off-putting.Peter Els, a retired music professor, is working on a series of microbiological experiments when his beloved pet dog dies. In the depths of his upset he accidentally places a call to emergency services which leads to a routine follow-up visit by the local police. In the post-9/11 culture of suspicion his experiments arouse the curiosity of the police, and Els, still distracted by the loss of his faithful pet, is unable to offer a coherent explanation of why he has been undertaking his experiments. The police in turn pass on their concerns and Els is visited by offers from the Department of Homeland Security.The lead story is well developed and gripping, but it is continually obscured by flashbacks through Els's life which served only to detract from, rather than enhance, the impact of the novel, and I found them immensely irritating.
Review by Opinionated
16/06/2015
A wonderful book. Articulate, erudite, sublime and affecting. The best novel I've read this year by a considerable margin, and far superior to anything on the Booker shortlist - which I mention because it bewilders me how this didn't make it to that shortlist ahead of some of the barely literate doggerel that did. Anyway...The opening of the book is unpromising. A retired music professor is burying his dog. When not listening to music, he dabbles in home genetics. Oh dear, thinks the reader, this is going to be a slog. But patience and commitment is rewarded - and you do have to commit time and brain space to Orfeo to get anything out of it. Like the main character, Peter Els, you have to listenA misunderstanding with Homeland Security officials sets him on the run. And as he drives through middle America, his life, his music, its position in contemporary culture, his relationships and a life that many would think wasted, but he does not, is reprised. And by the time you reach the final crisis you find tears welling. Powers writes beautifully about many things, but particularly about music, especially 20th century music and how the avant garde composers of the 60s and 70s, like Els, eventually lost the battle to the conformity of popular music. Do you have to know anything about music to enjoy it? Probably it helps if you know a little, or at least have an interest; one of the most moving sections of the book describes Olivier Messaien composing and performing the Quatour De La Fin Des Temps in prisoner of war camp in 1941. I immediately went online to find a performance of it - it really is quite remarkable - but I suppose you don't need to. But I think it helps your understanding if you do. The same with Steve Reich's Proverb which is also discussed in detail (although I find it hard to imagine it playing in a Starbucks in a small college town!)But Powers also writes beautifully about relationships and for Els, the most important has been with his first girlfriend Clara, his wife Maddy, his collaborator Bonner and most importantly, his daughter Sara. His relationship with Sara and how music provides and inseperable bond between them - at least for Els - his the most moving, and I think the crux of the bookHe sets Els development in the context of political and cultural movements and events with an accuracy that most novelists don't manage. And able to place the present in its historical context as he does by juxtaposing The Waco Siege and the Munster RebellionAs I say , a wonderful book. I shall now see out other works by Mr Powers
Review by bodachliath
27/01/2016
A truly extraordinary novel set in the world of modern classical/serious music. Powers clearly knows and loves much of the music of the twentieth century, and much of this story is an exploration of that culture and how its evolution reached a dead end in which a few radical composers wrote ever more complex music for a dwindling audience. The book addresses deeper questions of the place of music and art in society and the paranoid security culture of modern America.