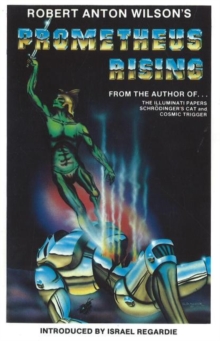 Prometheus Rising
Paperback
Information
Format: Paperback
Pages: 284 pages, b/w illus
Publisher: New Falcon Publications,U.S.
Publication Date: 01/01/1983
Category: Science fiction
ISBN: 9781561840564
Free Home Delivery
on all orders
Pick up orders
from local bookshops
Reviews
Showing 1 - 5 of 5 reviews.
Review by shawn_flecken
16/06/2015
This is perhaps the closest Wilson came to a textbook on the subject of the 8 circuit model. While he essentially follows the same theme is in most of his works, Prometheus Rising comes closest to a flat-out lecture on the subject. An absolutely fascinating read that had tremendous influence on my thinking. I used to highlight the sections that I thought were particularly insightful, but after multiple readings I found that there was more highlighted than not!
Review by gerrymcdonald
16/06/2015
This was the very first Robert Anton Wilson book I read. As the blurb says, it will reverse every mental polarity in you, well according to none other than Philip K Dick it will. Robert Anton Wilson deserves to be read by every inquiring mind. His books are incisive, thought-provoking, and humorous. The man's obvious love of humanity and the human psyche shine through. I thoroughly recommend all of his books (I now own 15 of his works), but this is where I started and it might be the best place for you too. This book, and indeed most of RAW's work doen't tell you WHAT to think, but HOW to think. There is a crucial difference, and this is apparent upon reading this. Highly recommended
Review by johnemersonsfoot
16/06/2015
A bit overly speculative, but that's the 'point' at times. Robert Anton Wilson was the trickster god of the 20th century, with Leary his John the baptist. Once you realize he's laughing both at you, himself, and 'with' you, then there's still a long way to walk in his writing. And that's a blessing if that's the case, because he has a written voice like nothing else out there.
Review by gkrishna63
16/06/2015
A mind altering book. The exercises at the end of a chapter must be done for you to truly get the best out of this book. Find a friend who likes this book and do the exercises together
Review by tlockney
16/06/2015
This is, likely, the one book of RAW's that I still have a copy of on a shelf somewhere. I read it nearly 20 years ago and I can't say I remember it well or would even necessarily still find it insightful. That said, it had a dramatic impact on me at the time I read it and open my mind to a lot of possible different ways of looking at the world around me.