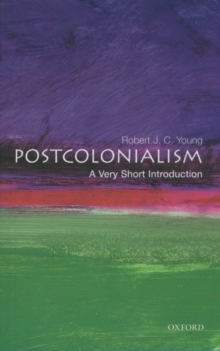 Postcolonialism: A Very Short Introduction
Paperback
Description
This innovative and lively book is quite unlike any other introduction to postcolonialism.
Robert Young examines the political, social, and cultural after-effects of decolonization by presenting situations, experiences, and testimony rather than going through the theory at an abstract level.
He situates the debate in a wide cultural context, discussing its importance as an historical condition, with examples such as the status of aboriginal people, of those dispossessed from their land, Algerian rai music, postcolonial feminism, and global social and ecological movements.
Above all, Young argues, postcolonialism offers a political philosophy of activism that contests the current situation of global inequality, and so in a new way continues the anti-colonial struggles of the past.
ABOUT THE SERIES: The Very Short Introductions series from Oxford University Press contains hundreds of titles in almost every subject area.
These pocket-sized books are the perfect way to get ahead in a new subject
Information
Format: Paperback
Pages: 192 pages, 10 halftones
Publisher: Oxford University Press
Publication Date: 26/06/2003
Category: Colonialism & imperialism
ISBN: 9780192801821
Free Home Delivery
on all orders
Pick up orders
from local bookshops
Reviews
Showing 1 - 2 of 2 reviews.
Review by kathleen586
16/06/2015
Despite having a very Marxist/Socialist perspective, this book has some valuable information. I learned a lot from it and I'm glad I read it.
Review by stillatim
16/06/2015
Not really well-named, but then, this isn't a short introduction to anything in particular. It's more like a selection of only the most outrageous stories from thirty years worth of the Guardian Weekly. So if you're young and want to get all hep up about bombing and racism, and are more or less unaware that, e.g., the 'problems' of Iraq are more or less the result of imperial/colonial/Western stupidity, this book will blow your mind. If you thought that 'postcolonial theory' was anything in particular, and wanted to learn about it, you'll be disappointed. Young says he won't be writing about a theory, and there is no one theory, and everything else that you're meant to say. He also has sections that read like manifestos: Postcolonialism is x. It is y. It is not z, for z is insufficiently good. And once you get to the end of all the things that postcolonialism is, and the two or three that it is not, you will be enlightened, believe me. What is postcolonialism, at the end of the day? It "seeks to turn difference from the basis of oppression into one of positive, intercultural social diversity." It is, in other words, slightly pumped up, color-blind liberalism. Postcolonialism is the good side of The Force. <br/>Quoting Mao will not win it any new fans, I assume and hope; nor will borderline moronic statements like "fatty beef is not necessarily the healthiest thing to be eating in an era of BSE and animals pumped with growth hormones. Why do people always grow taller in the United States? Think about it." Uh... better nutrition? Oh, no, I get it, it's because they've all been eating beef pumped with growth hormones. Never mind that the chapter on feminism is mainly about Gandhi, or that the problems with nationalism are traced, perversely, to "the German Romantic account of the nation, developed at state level in Europe by Nazi Germany" - yes, the Hitler-bomb!- and not to, say, the inevitably exclusionary and elitist results of the idea of a nation. <br/><br/>So his good intentions don't really help you. Nice as it is that he is writing this 'from below,' (below what? below the *third* floor of Wadham College?), and nice as it is that he doesn't use theory as a battering ram to cave in your skull, some rigor and selectivity would have been nice. <br/><br/>PS: A few weeks later, I think I've decided that this is a Very Short Introduction to the Historical Reasons that People Like the Theories of Postcolonialism. Nothing wrong with that I guess.
Also in the Very Short Introductions series | View all