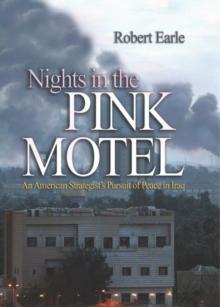 Nights in the Pink Motel : An American Strategist's Pursuit of Peace in Iraq
Hardback
Description
Nights in the Pink Motel is the first historical account of the strategic process that sought to reverse the negative consequences of the U.S.-led occupation of Iraq.
It offers details and insights into the Iraqi insurgency and Coalition counterinsurgency available nowhere else.
This book is a sustained, comprehensive account of all the conflicting factors that have made Iraq such an intractable international crisis and offers an intriguing narrative of how the American-led Coalition returned sovereignty to Iraq in June 2004, while defending Iraq's fledgling interim government against a rising insurgency and terrorism and helping ensure the success of Iraq's first national election in January 2005.The author, Robert Earle-recruited by the first U.S. ambassador to Iraq, John Negroponte, to serve as Negroponte's strategist-documents the Coalition's uncertainty about the nature of the insurgent/terrorist enemies, whose aim is to defeat democratization in Iraq.
Earle's story explores the impediments frustrating the massive, $18 billion reconstruction effort and recounts the formulation of a comprehensive counterinsurgency strategy issued by Negroponte and Multinational Force-Iraq Commanding General George Casey.
The title of the book is derived from the name given to the author's dingy offices in a former palace of Saddam Hussein in the Green Zone of Baghdad where he wrestled with developing a strategy for peace.
Upon drafting the strategy, Earle learns he must be evacuated from Iraq because of massive deep vein thrombosis in his left thigh.
This narrative twist takes him from the company of senior diplomats, generals, and Iraqi politicians and places him in the medical pipeline of wounded soldiers.
Upon arriving home, Earle thinks his nightmare assignment in Iraq is over, but Negroponte requests that he return to Baghdad to write a long message to the President, explaining that U.S. policy is failing and offering an alternative approach.
Casey, meanwhile, also wants Earle to assess the evolution of Iraqi politics and possible outcomes of the risky January 2005 election.
Returning to Iraq over the strenuous objections of State Department doctors, Earle occupies the dingy environs he calls the "Pink Motel" and completes his assignments, digging deeper into the realities of the international effort to end the violence and build the peace.
Nights in the Pink Motel is a graphic, first-person account of the political, military, and human efforts to dispel the fog of 21st century warfare.
The book is an essential contribution to understanding how all elements of national power must be combined to defeat insurgency and terror.
Information
Format: Hardback
Pages: 288 pages, 17 b/w photos & 1 map
Publisher: Naval Institute Press
Publication Date: 15/10/2008
Category: Asian history
ISBN: 9781591142256
Free Home Delivery
on all orders
Pick up orders
from local bookshops