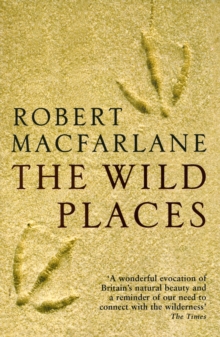 Description
"The Wild Places" is both an intellectual and a physical journey, and Macfarlane travels in time as well as space.
Guided by monks, questers, scientists, philosophers, poets and artists, both living and dead, he explores our changing ideas of the wild.
From the cliffs of Cape Wrath, to the holloways of Dorset, the storm-beaches of Norfolk, the saltmarshes and estuaries of Essex, and the moors of Rannoch and the Pennines, his journeys become the conductors of people and cultures, past and present, who have had intense relationships with these places.Certain birds, animals, trees and objects - snow-hares, falcons, beeches, crows, suns, white stones - recur, and as it progresses this densely patterned book begins to bind tighter and tighter.
At once a wonder voyage, an adventure story, an exercise in visionary cartography, and a work of natural history, it is written in a style and a form as unusual as the places with which it is concerned.
It also tells the story of a friendship, and of a loss.
It mixes history, memory and landscape in a strange and beautiful evocation of wildness and its vital importance.
Information
Format: Paperback
Pages: 352 pages
Publisher: Granta Books
Publication Date: 07/07/2008
Category: Travel writing
ISBN: 9781847080189
Free Home Delivery
on all orders
Pick up orders
from local bookshops
Reviews
Showing 1 - 1 of 1 reviews.
Review by Eyejaybee
16/06/2015
This is another engrossing paean to the remote stretches of the world. In his other books, [The Old Ways] and [Mountains of the Mind] Robert Macfarlane has shown his passion (obsession?) for walking or climbing in some of the world's most secluded and inaccessible areas, and this book offers more of the same.His prose has an admirable clarity and conciseness which matches the stark landscapes he portrays, and although he conveys considerable amounts of very technical information (covering the geological composition of the landscape, and lots of aspects of mountaineering) he never loses the reader's attention, even for readers as previously ill-informed on these subjects as I am.Here he also offers historical perspective on the yearning for solitude in some of the world's l;east hospitable locations, with a brief history of the peregrini, lone monks who would take to sea in rudderless and oarless boats to be taken wherever fate of the will of God might take them. Macfarlane travels out to a remote storm-tossed island of the Scottish coast to experience the peregrini's life for a few days.