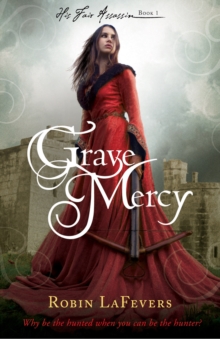 Description
Young, beautiful and deadly. Trained as an assassin by the god of Death, Ismae is sent to the court of Brittany, where she finds herself under prepared - not only for the games of intrigue and treason, but for the impossible choices she must make.
For how can she deliver Death's vengeance upon a target who, against her will, has stolen her heart?
This is a dangerous romance full of intrigue, poison and ultimately finding one's way.
Information
Format: Paperback
Pages: 496 pages
Publisher: Andersen Press Ltd
Publication Date: 01/05/2012
Category: Fantasy
ISBN: 9781849394130
Free Home Delivery
on all orders
Pick up orders
from local bookshops
Reviews
Showing 1 - 5 of 14 reviews.
Previous | Next
Review by lilibrarian
16/06/2015
Ismae is sworn to serve her father, the god of death, one of the 7 ancient gods worshipped by the people of Brittany. Now her country is under threat, and her convent and her god are asking her to protect the young duchess.
Review by poetrytoprose
16/06/2015
Grave Mercy by Robin LaFevers is WIN ALL AROUND. Right after starting it, my immediate thought was, "This is the book I've been waiting for."A premise like this one requires an amazing main character and Robin LaFevers absolutely delivered with Ismae. The reader would have to be evil to not sympathize with what she had to endure under her father's roof and, then, the life she barely escaped with her foul husband. I wanted good things for her and, thankfully, she is taken to a convent to serve Death Himself. There, Ismae is trained in combat, poisons, and seduction to become an assassin. Awesome, right? I attended schools with nuns for most of my education and I WISH things had been this cool. But, anyway, through it all, Ismae retains her goodness and she goes on quite the character arc in Grave Mercy. Both smart and kickass, Ismae is a top quality main character.Robin LaFevers offers so much detail in her writing. Set in 15th century Brittany, she easily transported me into the time period and I am in awe of all the research she must have had to do. I must admit that I only have so much patience for political and court drama, but Robin LaFevers managed to keep me hooked through all of the twists and turns she spun in Grave Mercy.Duval is the love interest in the book and words cannot describe how much I loved his relationship with Ismae. Can you say: SWOON CITY? There was plenty of bickering and distrust in the beginning, but then came the mutual respect and friendship and I was…a goner. Look up "slow burn" in the dictionary and I'm sure you'd find "Ismae and Duval" right next to it! These two had killer chemistry and I ate it all up.A strong heroine, a developed romance, some action and magic, court intrigue, political drama…Grave Mercy has it all! If that wasn't enough, I really became attached to some of the side characters and I cannot wait to find out more about them in the next installments. Robin LaFevers has an exciting series in her hands and I eagerly look forward to Dark Triumph and Dark Hope.
Review by sassybrunette
10/11/2015
this was a good easy read. nothing super impressive but it also wasnt bad, i read it fairly fast and it kept me interested
Review by skaohee
16/06/2015
Grave Mercy is the story of a young lamb (13/14 year old girl) who becomes a strong, independent 16/17 year old woman (A WOLF!) who is a trained assassin and carries out the will of her own Breton god (think Wanted with Angelina Jolie).Lately, every time I've picked up something outside my "comfort zone", I have been blown away by how awesome it is! I've been more into the Contemporary sub-genre lately and don't consider myself to be a historical fiction fan or a fantasy (urban, high, etc) fan AT ALL. The only historical fiction stories that I've read were The Vespertine and Born Wicked – 2 books out of the how many I've read in the past 2 years? EXACTLY. As for fantasy, I don't know, I'm just not big into it – or atleast I didn't used to be!! I am hooked now, and after reading Grave Mercy, I picked up Graceling and Fire by Kristin Cashore. Grave Mercy isn't High Fantasy or anything like that but if you're looking to whet your appetite for fantasy, it's the way to go.If you want some action packed, swoon-worthy romantic, light fantasy and some historical fiction all rolled into one, Grave Mercy is the book for you. I absolutely loved it.
Review by nbmars
16/06/2015
I don't know the proper name for this hybrid genre – historical fiction plus fantasy and sci fi – although this mix has been used to good effect by some excellent writers including Stephen King and Neal Stephenson, to name just two. Whatever it's called, <em>Grave Mercy</em> is based on 15th Century facts, with some paranormal and fairy tale tropes thrown into the mix. The story pivots around the <em>real</em> Duchess Anne of Brittany, her <em>fictional</em> half-brother Gavriel Duval, and the <em>fictional </em>novitiate of the <em>fictional</em> Convent of St. Mortain, Ismae Rienne. St. Mortain is God of Death, and the Convent is dedicated to serving him. Ismae bears a scar on her back that identifies her as having been sired by Death himself. She is shunned by all in her village, and escapes to the Convent to be among those who will accept her. At St. Mortain, she and the other novitiates are trained to be instruments of Death, which means, as the Abbess explains to Ismae, that she will learn "more ways to kill a man than you imagined possible." The Abbess asks Ismae to swear to obey Mortain in anything he asks of her. The catch is, the nuns in the abbey decide what it is that Mortain is asking.Ismae drinks the Koolaid: "I am a handmaiden of Death. I walk in His dark shadow and do His bidding. Serving Him is my only purpose in this life…"It turns out that Mortain supports the Duchess against the French [sort of by the same logic that causes rival football teams to insist that their side is backed by Jesus.] Ismae is sent to Anne's court to follow Anne's half-brother (and chief advisor) Duval around and see if she thereby gets any insight into who is undermining the Duchess. She is also charged with the duty to slay enemies named to her by the Abbess via carrier raven. But there are so many enemies around, it's difficult figuring out who is a traitor and who is loyal. The Chancellor of Brittany, Viscount Crunard, also advises the Abbess on his theories of who has been naughty and who has been nice, and the Abbess in turn gives Ismae the bird. (So to speak.)But a worm of doubt seeks its way into Ismae via the noble Duval. He has this exchange with Ismae:"Doesn't it worry you, that you understand nothing of how they make their decisions? What if they make a mistake?'A mistake?' My cheeks grow hot at the suggestion. 'I do not see how they can, milord, since their hand is guided by the saint Himself. Indeed, to suggest such a thing reeks of blasphemy to me.'It is not the saint I doubt, demoiselle, only the humans who interpret His wishes. In my experience, humans are all too fallible.'"You have to love Duval. Not only is he the perfect sweetheart, but he elevates the intellectual level of the novel by leaps and bounds. Indeed, the problem of separating the word of God from interpreters still plagues us to this day, as we have seen most tragically from the crisis of priestly abuse, often justified as being what God wants. [Maybe what <em>Mortain</em> wants….]But Duval doesn't only cause Ismae to doubt because of his <em>mind</em>. She finds herself falling for him, bringing her faith to a crisis when the word from the bird orders death to Duval.<strong>Good Things:</strong>Self defense for girls! These novitiates learn all the necessary skills for fending off agressors.History! All of the plot background - from the conflict between France and Brittany to the dilemma of who the Duchess would marry, hews pretty close to the facts as we know them.Physical Perfection Gives Way to Nuance! Ismae is physically scarred; Duval is physically scarred; Duval's friend Beast – the ugliest man Ismae has ever seen – is big-hearted, kind, and Ismae comes to see him as someone she loves like family; Duval's friend De Lornay – Ismae loathes him at first because he <em>is</em> physically beautiful - seems haughty and hostile, but when Ismae finally lets down her defensiveness enough to get to know him, she finds a heart of gold. And all those bad guys? Ismae learns to see in their hearts as well, and finds that there is generally a reason for the evil they do, a reason that touches chords of sympathy in her.This means Ismae is not as one-note as her Dad, Death, but maybe <em>he's</em> got nuance too, which leads us to….<strong>Bad Things:</strong>Make up your mind, Mortain! Are you the God of Death, or the God of Mercy and Love? And why are you on Brittany's side against France anyway?A cure for poison: who knew it was sex?The flimsy excuse for Duval to get Ismae's clothes off to help her clean up (wait: doesn't she have all these maids-in-waiting?) and the even flimsier excuse for Ismae to get Duval's clothes off: "just checking for poison, milord…." (I must remember that one! Yo! Joe Manganiello! I need to perform a toxicity check asap!)And, sigh, I have to add writing to the Bad Things. The writing isn't so hot. And the nuance I talked about under Good Things? It's sadly missing in the Abbess, who could play Snow White's Evil Stepmother if she loses her job at the Convent.<strong>Evaluation:</strong> In spite of the Bad Things, I think the Good Things outweigh them, and I enjoyed this. Kind of. Yes, I'll be back for the next volume in the series. (Ha ha, you thought it wasn't a series!)