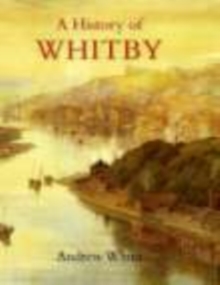 A History of Whitby
Hardback
Description
Whitby is well known today as a seaside resort and a picturesque place to visit, with its piers, boats, fine sands and, overlooking its tangle of red-roofed houses, the ruins of its Abbey in one of the most splendid settings in Britain for such romantic remains.
But few of its many visitors would guess the long history of the town or its significance, from time to time, in national affairs. Its fine natural harbour, one of the few on the east coast, gave it early importance as a place of refuge and a fishing port.
By the mid-7th century a royal monastery was established on the east cliff.
Ruled for many years by the famous Abbess Hilda, it was destroyed by the Vikings, then rebuilt by the Norman, Reinfrid.
The Middle Ages saw quiet growth but the 17th century brought great prosperity, with shipbuilding on a scale out of all proportion to its size, serving the coal trade between the Tyne and the Thames, with many of the sturdy 'colliers' built and owned here; and the rapid growth of whaling, with similar implications.
Indeed, Captain Cook's four ships, used on his great voyages of exploration, were all built here. Long isolated, except by sea, Whitby developed a very distinctive set of traditions and folklore.
Not until a horse-drawn railway was built in the 1830s did Whitby's inland communications improve, bringing visitors for whom hotels and boarding houses were built on the west cliff.
Queen Victoria made Whitby jet fashionable, while the town's geology brought trade in alum and in superbly preserved fossils.
Largely derived from its unusual past, the town's unique character draws thousands of visitors each year; and the first edition of this book, in 1993, was as much welcomed by them as by the locals.
The only comprehensive history of Whitby, it rapidly sold out and Dr White, its author, of ancient Whitby stock, has now fully revised and updated his book, with some new illustrations and interpretations.
This new edition will continue as the definitive work on
Information
Format: Hardback
Pages: 128 pages
Publisher: The History Press Ltd
Publication Date: 01/10/2004
Category: Local history
ISBN: 9781860773068
Free Home Delivery
on all orders
Pick up orders
from local bookshops