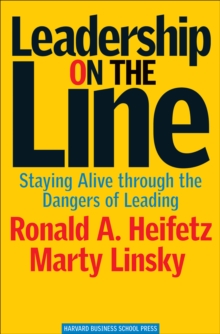 Leadership on the Line : Staying Alive Through the Dangers of Leading
Hardback
Description
Named one of 100 Leadership & Success Books to Read in a Lifetime by Amazon EditorsTo lead is to live dangerously.
It's romantic and exciting to think of leadership as all inspiration, decisive action, and rich rewards, but leading requires taking risks that can jeopardize your career and your personal life.
It requires putting yourself on the line, disturbing the status quo, and surfacing hidden conflict. And when people resist and push back, there's a strong temptation to play it safe.
Those who choose to lead plunge in, take the risks, and sometimes get burned.
But it doesn't have to be that way say renowned leadership authorities Ronald Heifetz and Marty Linsky.
In Leadership on the Line, they show how it's possible to make a difference without getting "taken out" or pushed aside.
They present everyday tools that give equal weight to the dangerous work of leading change and the critical importance of personal survival.
Through vivid stories from all walks of life, the authors present straightforward strategies for navigating the perilous straits of leadership.
Whether parent or politician, CEO or community activist, this practical book shows how you can exercise leadership and survive and thrive to enjoy the fruits of your labor.
Free Home Delivery
on all orders
Pick up orders
from local bookshops
Reviews
Showing 1 - 2 of 2 reviews.
Review by lmstevens01
16/06/2015
This is a very good book. Some of the leadership principles are eye-opening and I am now trying to force myself to utilize them. Getting on the balcony is one of those principles. While we all detest office politics, we need support, and this book shares who and how to enlist support. It has a good chapter on dealing with conflict. And it talks about avoiding burnout. These are all good topics, and very relative.
Review by sullijo
27/08/2015
"Leadership on the Line" is one of the first leadership books I ever read, but it's one that has stayed with me over the years.I was especially impressed with the authors' distinction between technical work, which involves applying known solutions to problems, and adaptive work, which is the task of helping people with problems learn how to solve them. Discerning which type of work is applicable to the present situation is one of the most important roles of leaders in organizations.I was also impressed with the book's practical advice on surviving the perils of leadership, such as avoiding being the "indispensable man" and instead handing work back to people when they are best equipped to do it.Most surprisingly, the book ends with a beautiful reflection on an encounter Heifetz, a Jew, had with the Sacred Heart of Jesus and its implications for leadership."Leadership on the Line" is a book I have returned to numerous times during my career, and it is one I am sure will help other Church leaders as well.