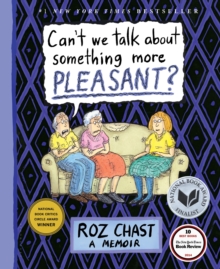 Can't We Talk About Something More Pleasant? : A Memoir
Hardback
Information
Format: Hardback
Pages: 240 pages, Colour illustrations throughout
Publisher: Bloomsbury Publishing Plc
Publication Date: 06/05/2014
Category: Memoirs
ISBN: 9781608198061
Free Home Delivery
on all orders
Pick up orders
from local bookshops
Reviews
Showing 1 - 5 of 35 reviews.
Previous | Next
Review by Lettypearl
16/06/2015
This is a memoir about the last years of the author's parents' lives. She uses narrative, family photographs, and cartoons to bring these truths to the reader. While the author makes great use of humor, the point comes through quite clearly: for adult children dealing with their parents' decline and death, the process is difficult, frustrating, and guilt-ridden. I believe this is a terrific book not only for those experiencing the decline and loss of their parents at the present time, but also presents a good case for parents and adult children to have a serious conversation about what the parents want to happen during that time - before it happens. And for heaven's sake, clean out that "crazy closet" before you children have to do it! I'm going to start on my attic right away! I highly recommend this book for anyone with parents 60 or older, or for people over 60 with adult children. It's never too early to start this conversation. This book comes out in May 2014. Thank you Bloomsbury and Ms. Chast for allowing me to read this advance reader's copy!
Review by froxgirl
16/06/2015
Roz Chast is one of my favorite cartoonists. In this book she shows herself to be a dazzlingly truthful memoirist - except for the obviously missing portrayals of her own husband and kids. The book is entitled "A Memoir" but deals only with her relationship with her parents, focusing on their declining years.Chast has suffered mightily from "a blast from Chast" - her mother Elizabeth is headstrong and domineering, maybe the prototype Jewish mother, and her father is affectionate yet completely cowed by his wife, maybe the prototype Jewish dad. Roz escapes home as soon as she can, and rarely returns. Her parents remain in Brooklyn - "deep Brooklyn", where hipsters fear to tread. They rent the same apartment for almost 50 years - too afraid to move or to buy a house.The most startling part of their lives is their utter devotion and dependence upon each other, especially after they both retire. This is generational, I believe, or maybe not - I know few couples in the Boomers, Gen X, etc that seemingly have no life outside their marriage.The events leading up to their deaths, in their 90s and in ill health, are tragic for all three. But Chast has laid it all out for us - big warts, goiters, blisters, and all. I'm thinking of giving it to my parents as a cautionary tale, but as my friend, you should also "read and learn", as Roz's mother would say.
Review by rvhatha
16/06/2015
Wow. Wow wow wow wow wow wow. There's not much more I can say about this beyond "I laughed, I cried." But when I laughed, I literally laughed out loud--Roz Chast has the most singular, affecting way of depicting people at the end of their tether, and if there's anything in life that's inevitably going to bring you to the end of your tether, it's death. There are splash panels here that are reminiscent of Chast's best work for _The New Yorker_, such as "The Wheel of Doom," which depicts the many roads that lead inexorably to death, such as "sitting directly on the ground," which apparently causes "a cold in your kidneys," which ends, of course, in death (as do all of the other combinations...though sometimes only after they first cause deafness or blindness. No cartoonist captures the absurdity and the hypocrisy of of daily life better, and there's plenty of both to mine in Chast's story about the last years of her parents' lives.I'm always amazed at the deep, almost relentless candor of graphic memoirists; Chast's is as self-indicting as Speigelman's _Maus_, and as stripped-down-brave as Bechdel's _Fun Home_. But it's also funnier, and because of that--to me, anyway--even more poignant. But while I expected this to be a tough read ( started it thinking I'd have to read it in small doses), Chast's humor and her ability to frame events, both literally and figuratively, made this so compelling and readable that I devoured it pretty much in a single sitting.As a folklorist, I especially enjoyed the way Chast weaves family stories and traditions into the text, from the erroneous story Chast is told about why her older sister was stillborn, to her mother's demented stories about how her long-dead mother-in-law is trying to kill her. There's also a very memorable scene with a Ouija board. Truly one of the best things I've read all year.
Review by librarymary09
16/06/2015
Review by coppers
16/06/2015
New Yorker cartoonist Roz Chast's graphic novel about the last few years of her parents' lives. Both lived well into their 90s, but their advanced age meant that Roz, an only child, had to help them through the inevitable falls, loss of mental and physical acuity, a move to assisted living, hospice care, and death. Anyone who has witnessed their own parents advanced old age and death will recognize a lot of the same issues – both the lighthearted ones (how many pencils can two people own?) and the heartbreaking ones (too numerous to mention). Chast's relationship with her domineering mother was not a good one and their fractured relationship was still apparent right up to the end. It certainly made me thankful (and lonely) for my own Mom. Still, a moving story told with wit, honesty, and love.
Also by Roz Chast