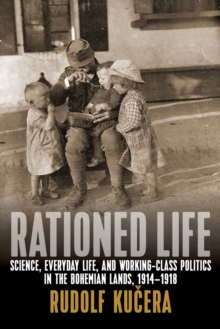 Rationed Life : Science, Everyday Life, and Working-Class Politics in the Bohemian Lands, 1914-1918
Paperback / softback
Description
Far from the battlefront, hundreds of thousands of workers toiled in Bohemian factories over the course of World War I, and their lives were inescapably shaped by the conflict.
In particular, they faced new and dramatic forms of material hardship that strained social ties and placed in sharp relief the most mundane aspects of daily life, such as when, what, and with whom to eat.
This study reconstructs the experience of the Bohemian working class during the Great War through explorations of four basic spheres-food, labor, gender, and protest-that comprise a fascinating case study in early twentieth-century social history.
Information
Format: Paperback / softback
Pages: 204 pages, 10 illustrations
Publisher: Berghahn Books
Publication Date: 01/03/2019
Category: European history
ISBN: 9781789200768
Other Formats
Hardback from £50.35
EPUB from £20.36