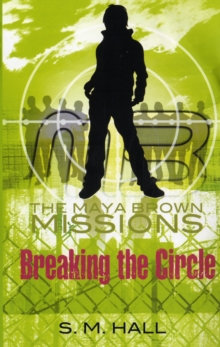 Breaking the Circle
Paperback
Description
Maya Brown is very excited to be back in London after her adventures following her mother's kidnap last summer.
But her return to the city is quickly marred by her discovery of the plight of an illegal immigrant - Kay - and that many of her friends are becoming involved with drugs.
But what is the connection between the two? And is Maya over-reacting or is there something she can do to save Kay and make her friends realise the danger they are in?
As Maya becomes immersed in the dark side of London life she finds herself making important discoveries about her own past too.
This exciting follow-up to Circle of Fire takes readers on another thrilling adventure with the headstrong heroine, Maya.
Information
Format: Paperback
Pages: 352 pages
Publisher: Frances Lincoln Publishers Ltd
Publication Date: 02/02/2012
Category: Thrillers (Children's/YA)
ISBN: 9781847801227
Free Home Delivery
on all orders
Pick up orders
from local bookshops
Reviews
Showing 1 - 5 of 6 reviews.
Previous | Next
Review by wcs53
16/06/2015
As this is book number two of the Maya Brown Missions, the publishers generously sent me book one as well, which helped me enjoy this one more.I am not part of the demographic group that this book is aimed at, which is (in my opinion) girls 12+, but I was able to enjoy reading it nonetheless. I can see these books being part of a long series of adventures featuring Maya Brown, the heroine of the story. Maya Brown is, for the most part, a good role model, although I'd be worried if my daughter got involved in the way that Maya does!Although this book could probably be read and enjoyed on its own, I'd recommend reading book one, Circle of Fire, first. It would help with understanding some of the characters, as well as what Maya went through in the first.Breaking the Circle is a well-written book, by an established author, that moves along at a decent pace. It was hard, even for me, to put down once started. Maya was a refugee from Kosovo, who was adopted at a young age by her mother, Pam, who is a secret agent for British intelligence.In this book Maya finds herself up against some nasty characters who turn out to be part of a large drug-smuggling and trafficking ring. The author, S.M. Hall, doesn't shy away from describing the sordid world of drugs and prostitution, but also does it in a way that is appropriate for the audience the book is aimed at. I am quite comfortable passing this one on to my 13 year old daughter, whom I think will really enjoy this series.Time will tell as to where this series goes next, but there are hints at the end of the book as to where the next story might go. In the meantime, this book, as well as its predecessor, is a really good start. If you are looking for something exciting, with good morals and lessons to be learned (without being too 'preachy'), for your daughter (probably aged 12-15), or even for yourself, then this is worth picking up.
Review by Liviania
16/06/2015
BREAKING THE CIRCLE is the second book of The Maya Brown Missions and an improvement over CIRCLE OF FIRE. It can stand on its own, so you can go ahead and start the series here if you're sufficiently intrigued by my review.Maya Brown is a fifteen-year-old Muslim teenager raised by an intelligence agent who rescued her from the fire that killed her family in Kosovo. She's a proactive young woman who doesn't like to sit and wait for problems to be solved. If she sees a chance to act, she's going to take it, whether the police or Drug Unit or whoever is ready - which isn't always the best plan.BREAKING THE CIRCLE begins when Maya is robbed by a young woman named Kay and a boy named Gerard. When she runs into Kay later, she learns that Kay is an illegal immigrant working as a prostitute for the men who brought her into the country and Gerard is a drug dealer. Maya gets revved up to save Kay and get Gerard arrested. But she quickly learns that Gerard is but a small cog in a large cartel and that it's very hard to save a drug addict, because the thing they care about most in the world is their next fix.The Maya Brown Missions have a more realistic feel than many other kid spy books I've read, such as the Alex Rider series. Maya's not working for an organization or armed with cool gadgets. She's bumbling around on her own. While her plans are often terrible, she is good at thinking on her feet and managing to keep her cool in tough situations.BREAKING THE CIRCLE is written a little simpler than it needs to be. To me, it read like a middle grade novel, but I feel like sex slavery is more of a young adult topic. (Appropriately to a younger age group, Maya slips pretty easily out of any danger of being violated herself. Which I am thankful for, because I don't want to read about a plucky fifteen-year-old heroine being raped.) I just feel like the book's subject matter calls for slightly more complex writing.But BREAKING THE CIRCLE is pretty fun, with lots of action, and it's nice to have a book series featuring a girl spy. This series isn't my favorite, but there's definitely an audience for it.
Review by spelldavid
16/06/2015
This book is the sequel to "Circle of Fire". Both books are fast paced and full of action and adventure. They are written for young adults. A typical reader may not notice some the things that irritated me about the writing. The story line was good, but the writing style left me struggling to say positive things. I found the "mind message" talk very irritating. Aside from that, Maya Brown is one tough chick, but it's extremely unrealistic.
Review by crystaldotson
16/06/2015
While Mayas mother is called away on a mission, she is mugged by a boy and his girlfriend. Later at a friends party she see's them there and learns they are drug sellers, but the drugs they are selling are laced with a deadly substance. Maya soon finds out they are also involved with human trafficking of girls. Will Maya be able to stop the drugs from reaching anymore clients and help the trafficked girls, or does she become to involved to make it out alive.Very entertaining read.
Review by momtorghj
16/06/2015
It took me a while to review this book because I had to secure a copy of the first book in the series (I hate reading books out of order!). I am a bit confused as to the audience for this book - I found the subjects a bit too mature for the 9-12 crowd but the writing style would not appeal to the 13+ crowd. I wasn't too impressed with the writing style but the topics are prevalent in today's society (unfortunately). I don't think I will seek out the third book in the series.