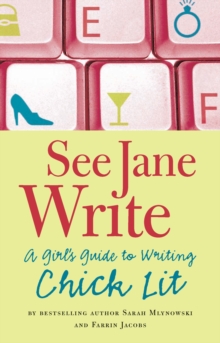 Description
Chick lit is everywhere, and for every chick lit reader gorging on the latest Jennifer Weiner, Meg Cabot, or Anne Lamott novel, there are an equal number who will think to themselves: I could do that!
I could write a chick lit book! I could write a bestseller and never have to work again! And now, for every fan of women's fiction (and their numbers are in the millions), bestselling novelist Sarah Mlynowski and veteran chick lit editor Farrin Jacobs have teamed up to show this incredibly fast-growing audience of readers how it's done, covering every stage in developing and selling your soon-to-be bestselling novel.
The chapters focus on choosing an idea, choosing a point of view, making your characters likable, creating secondary characters, learning the "Three Ps" (problems, plotting, and pacing), revising your text, finding an agent, and much more.
Tables, charts, and sidebars sprinkled throughout the text will entertain budding authors with chick lit mad libs, advice from scores of established writers (including Meg Cabot, Marian Keyes, Sophie Kinsella, Jennifer Weiner, etc.), and motivational and inspirational tips from two publishing professionals who really know their stuff. Best of all, these authors are as funny and savvy as any chick lit heroine - and they know that the best chick lit writers are the ones who take chances and dare to take the first steps to success.
Information
Format: Paperback
Pages: 192 pages, 20 illustrations
Publisher: Quirk Books
Publication Date: 01/06/2006
ISBN: 9781594741159
Free Home Delivery
on all orders
Pick up orders
from local bookshops
Reviews
Showing 1 - 5 of 6 reviews.
Previous | Next
Review by kikianika
16/06/2015
it's fun, cute and quirky, and even the print is designed to sugar-coat your eyes. It feels a bit dated, waht with the chick lit craze dying down rather severely, but it's still a great book on the writing process, and it does a great job in making the how-to bits not boring. I'd recommend it.
Review by Deesirings
16/06/2015
I picked this up randomly off a library shelf. I thought it would give me ideas about what to *read*. However, it is so successful in it's purpose that I came away from it thinking "why yes, I could write my own novel! Why yes, I want to write my own novel! Why yes, I want to have that novel published!" That's a sign of a well done book, is it not?It has also given me plenty of ideas about what to read. And many clues about what to look for as I read the books, not only for enjoyment, but also with a critical view to ascertaining how it was all put together and which books work best and why.This book is far from being a brick. It's a quick, easy read, as chick lit should be. (Which is not to say that it was a quick, easy write, as I've learned from it.) It touches on the fundamental, practical aspects from the act of actually writing it, in a chapter entitled "No more excuses, Missy" to what to do with it once it's done.I think I will be coming back to this one for multiple consults when I actually get cracking and write my own fiction.In the meantime, here are the chick lit authors mentioned in the book: * Melissa Bank * Stacey Ballis * Candace Bushnell * Deborah Blumenthal * Meg Cabot * Laura Caldwell * Lynda Curnyn * Sarah Dunn * Johanna Edwards * Helen Fielding * Valerie Frankel * Suzanne Finnamore * Jody Gehrman * Kristin Gore * Jane Green * Emily Giffin * Kristin Harmel * Robyn Harding * Valerie Hurley * Marian Keyes * Sophie Kineslla * Nicola Kraus * Betsy Lerner * Caren Lissner * Cara Lockwook * Carole Matthews * Anna Maxted * Emma McLaughlin * Lynn Messina * Sarah Mlynowski * Lee Nichols * Jennifer O'Connell * Alison Pace * Jackie Rose * Sarah Salway * Melissa Senate * Leah Stewart * Alisa Valdes-Rodriguez * Jennifer Weiner * Lolly Winston * Laura Zigman
Review by chicklitter
16/06/2015
I don't usually enjoy reading "how to" books on writing, primarily because they tend to cover basic things I learned way back in high school English. Plus, let's face it, most "how to" books can be quite boring. Quite honestly, though, this might just be the best "how to" book I've ever read.Maybe it helps that the book was written by a chick lit author and an editor of chick lit, but the tone was like that of a chick lit novel--fast paced and witty, making me laugh in ways most instructional books can't. It was an incredibly fast read, and I felt more like I was reading something from a good friend rather than an author and editor I may or may not ever meet.Sure, a lot of the basic information was just that--basic. Watch your hyperboles and word choice. It helps if you know how to properly construct a sentence. Editors hate it when you confuse "its" with "it's" or "your" with "you're." Basic stuff. The stuff I learned way back in high school English. But it was said in such an engaging way that it was impossible to not enjoy reading it.If you read the title, you might be inclined to think that the authors are saying anyone can write chick lit. They're quick to point out that not just anyone can write chick lit, that you have to have a sense of humor that's suitable to chick lit (meaning witty and maybe a little snarky but with a sweet edge to it), you need to read chick lit, you have to have a story to tell, and you need some talent. Mlynowski and Farrin--along with the authors they interviewed for the book--are very quick to point out that not everyone has a chick lit novel inside of them (much less many) and that not everyone has the talent to write a good novel that someone would actually want to publish. I liked the fact that they made that distinction, because too many people think that anyone could write chick lit, and that simply is not the case.The authors are also quick to point out that not all chick lit is so-called "mindless fluff," and that today's chick lit tackles issues from infidelity to eating disorders to motherhood to divorce to death to vampires to solving murders and everything in between. Chick lit has had to evolve in order to keep and gain readers, and authors and publishing houses are responding. Just because a book is written with a light, witty tone doesn't mean the content itself is "light." Mlynowski and Jacobs are also sure to point out that despite what some people might be saying, chick lit is not dead. Yes, editors and agents have stopped accepting the large amounts of manuscripts they once were and publishers are putting out fewer titles every month, but the genre is not dead and is here to stay.The discussion on plot, pacing and characters is fantastic, too. They stress that you must have a plot--and a good one at that. They also are sure to say that with chick lit the pace is usually pretty fast, and that characters are very important. One of the best things I've ever read regarding characterization comes from this book, and it's during a discussing about getting character/secondary character ideas from your friends, family and people you know: "Shoplift a few items; don't steal the whole store." So basically, take a pint of Ben & Jerry's and some chocolate sauce, but leave the whipped cream and nuts for someone else.This book also has some wonderful writing exercises in it that range from check lists to mad libs to chart creation. I am definitely going to have to use some of them in the future, and would have done the mad libs had I not read most of the book while on a treadmill (I learned that highlighters, books and treadmills don't really go well together, so a pen was pretty much out of the question).My favorite thing about genre-specific "how to" books, though, is almost always the fact that they cover the business side of writing. This one is no different. They cover publishing houses, editors, agents, and even give a break down on how much chick lit books typically make (which was really interesting to see). The authors stress the importance of getting an agent, which I found to be refreshing. Some books will say, "you should probably think about getting an agent," but don't really go into why. Farrin and Mlynowski interviewed several different authors for their agent stories, and every single one of them who didn't start out with an agent said they wished they would have because they now know that they could have gotten a much better contract had they had an agent. The authors also list publishing houses who are accepting unsolicited manuscripts, which is also nice (although they do say to be sure to check the house's web site to make sure the editor or rules haven't changed).See Jane Write also provided me with several titles and authors to pick up and put in my TBR pile, which is possibly just as valuable as the advice and checklists scattered throughout the book.Overall, I would have to say this is probably one of the best "how to" books I've ever read. It was engaging, fun and informative, had real life advice from authors who have "been there, done that," and was very well-written. Plus, the color scheme was awesome.
Review by JacquelinesDesigns
16/06/2015
I am reading this book in bits and pieces, but I have loved it so far! It really has helped me with my writing! I'd recomend it to anyone in the writing business-even if you don't want to write chick lit!
Review by kikilon
16/06/2015
it's fun, cute and quirky, and even the print is designed to sugar-coat your eyes. It feels a bit dated, waht with the chick lit craze dying down rather severely, but it's still a great book on the writing process, and it does a great job in making the how-to bits not boring. I'd recommend it.