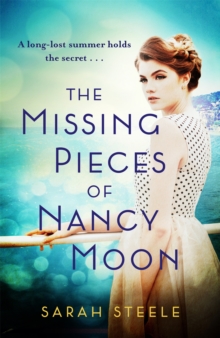 The Missing Pieces of Nancy Moon: Escape to the Riviera for this summer's most irresistible read
Hardback
Description
'I was gripped, desperate to solve the mystery of Nancy Moon' Sarah Haywood, New York Times bestselling author of THE CACTUS'Wonderful.
This book is a joy' Katie Fforde, Sunday Times bestselling author 'A gorgeous, tender debut' Kate Riordan, author of THE HEATWAVEIf you love taking a journey with the novels of Kristin Hannah or Kathryn Hughes, this novel is for you. To unravel that long-lost summer, she had to follow the thread... Florence Connelly is broken hearted. Her marriage has collapsed under the weight of the loss she shares with her husband, and her beloved grandmother has just died.
Even the joy she found in dressmaking is gone. But things change when Flo opens a box of vintage 1960s dress patterns found inside her grandmother's wardrobe.
Inside each pattern packet is a fabric swatch, a postcard from Europe and a photograph of a mysterious young woman, Nancy Moon, wearing the hand-made dress. Flo discovers that Nancy was a distant relation who took the boat train to Paris in 1962 and never returned.
With no one to stay home for, Flo decides to follow Nancy's thread.
She unravels an untold story of love and loss in her family's past. And begins to stitch the pieces of her own life back together. 'Moving, hopeful and heartfelt' Felicity Hayes-McCoy, author of THE LIBRARY AT THE EDGE OF THE WORLD'Warm and true...
Pays tribute to the heart and backbone of women who support each other when the world turns its back' Stephanie Butland, author of LOST FOR WORDS'Two captivating stories of love and heartbreak, stitched together by a trail through Europe in 1962' Gill Paul, author of THE SECRET WIFE'Beautiful and touching.
A remarkable debut novel, which demonstrates the enduring nature of love, family and friendship' Sarah Haywood, author of THE CACTUSREADERS ARE LOVING THE MISSING PIECES OF NANCY MOON:'Outstandingly beautiful.
This book took my breath away. A sheer joy''OMG WHAT A BOOK. Fabulously, beautifully written book. It definitely kept me hooked. Nancy Moon's story is full of everything - love, heartache and loss' 'A wonderful book, which took me on a journey and stayed with me for days afterwards''A captivating read of secrets untold.
A moving story which I read in one day. Many twists and turns enhanced this gripping novel and kept me enthralled' 'I loved this story of love, friendship and hope.
Sewing, fashion and 1960s European hotspots. It's perfect''A lovely, uplifting book. Love how it takes you back to find out clues about her grandmother's life''I loved the concept, recreating the dresses and travelling across Europe to fill in the blanks'
Information
Format: Hardback
Pages: 416 pages
Publisher: Headline Publishing Group
Publication Date: 06/08/2020
ISBN: 9781472270078