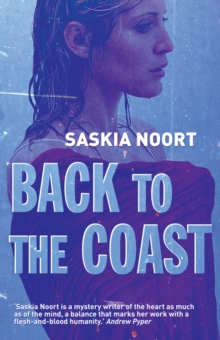 Back to the Coast
Paperback
Description
Maria has money problems, two children from a failed marriage and a depressive boy friend.
When she gets pregnant she decides not to keep the baby and then the letters start to arrive.
Threatening letters, from pro-life activists she thinks at first, but then she begins to suspect others, eventually her own boyfriend.
She flees to her family home where her sister now lives.
Isolated, set in the dunes of the Dutch coast, redolent with memories of a childhood she does not want to revisit.
As the death threats follow her to her hiding place, Maria begins to fear not only for her life but her own sanity.
This is relentless suspense writing: a description of Maria's hellish descent into a world of induced paranoia which ends with a narrow escape from a carefully planned murder.
Information
Format: Paperback
Pages: 287 pages
Publisher: Bitter Lemon Press
Publication Date: 12/03/2009
Category: Crime & mystery
ISBN: 9781904738374
Free Home Delivery
on all orders
Pick up orders
from local bookshops
Reviews
Showing 1 - 2 of 2 reviews.
Review by bcquinnsmom
16/06/2015
Maria Vos is a young woman with a lot on her plate. She's a vocalist in a cover band that plays parties, clubs, whatever gigs the group can get. She's a mother of two small children, the oldest only eight years old. She's just left her son's father Geert after realizing that his depression is another weight she can't bear to carry. What she wants is to be a professional singer, but with so much going on, it's probably unlikely to happen. So when she finds herself pregnant for a third time, it is just too much. After some soul searching, she decides to have an abortion, as raising another baby would just be too much. But not long after the procedure, Maria finds herself the victim of some sick notes & pictures left in her mail. She is persuaded to go to the police, but the police can't do anything unless something happens to her -- it seems that threatening letters aren't enough to warrant any kind of official action. But it isn't long until a very cruel joke is played on her, and her nerves just can't take much more. To try and get some peace, Maria takes her two children "back to the coast" to stay for a while at her old childhood home. Her persecutor, however, doesn't care where she is. As the story progresses, a number of possible suspects emerge, all of them with strong motives. Each character is drawn well; each has his or her own individual voice. Characterizations seem to be this author's strong point, and she focuses a great deal on Maria's relationships both in terms of men and her own family. She expertly and believably paints Maria as a mom torn between her own career and her responsibilities to her children, and her problems are easily understandable, making her a sympathetic character. Another positive point of this novel is that the tension in the story starts early and continues throughout. There's also a well-established sense of place, both in Amsterdam where Maria lives and the seaside.The down side of the story is that I figured out the plot and the who very early on. I know this sounds odd, but I very much enjoy being surprised as to the culprit's identity, so if the plot becomes so obvious that I can figure out the solution long before the end, I tend not to read that author's works again. But in this case, the writing was quite good and I was rewarded at the end with more of the "why" than I expected. Another plus: the story's denouement also led to questions about other events throughout the novel, so I found myself going back into the book and having a few "aha" moments as things became a bit clearer.Overall, Back to the Coast is a solid read, offering great characterizations, a good story, good writing and a level of tension that doesn't quite ease up throughout. Despite the fact that the solution is a bit obvious, I'd definitely read another novel by this author. I'd recommend Back to the Coast to readers of translated crime fiction, and to people who enjoy a bit of tension as they read.
Review by RidgewayGirl
16/06/2015
This is the debut novel by Dutch author Saskia Noort. Maria, back-up singer and parent to two small children in Amsterdam, broke up with her partner, Geert, whose mental issues finally proved too much for her. She also had an abortion, feeling unequal to the task of raising three children and working without support. Immediately afterwards, she begins to receive threatening messages and it's clear she's being stalked. The police can't do anything. The stalker is clever enough to disguise their identity, and the harassment intensifies until Maria is frightened enough to leave Amsterdam. She's also worried that people don't believe her. The letters are destroyed. The things that happen are designed to look as though she was inventing the threats and she has no idea who she can trust. There is a lot that is promising in this book. Maria is an interesting character; prickly and slow to make friends, but loving to her children. She has a hard time asking for help or trusting those who offer her help. The idea of being stalked, and how doubts are raised about the target's perceptions makes for compulsive reading. However, [Back to the Coast] is too flawed a story to do justice to the ideas behind the plot. The stalker's identity is revealed too obviously, too often and too early to maintain suspense and what begins as a tale based in reality becomes more and more outrageous in the book's final pages. I loved the setting, a part of the Netherlands I have visited and I hope to give Noort another try with a later novel.