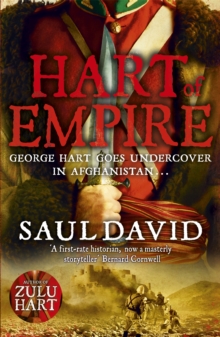 Hart of Empire : (Zulu Hart 2) 2
Paperback
Description
Back in England following his heroics in the Zulu Wars, George Hart is summoned to a new adventure when Prime Minister Disraeli asks him to go on a secret mission to Afghanistan, where the British fear Muslim extremists are poised to overthrow the local ruler and threaten the jewel in the Imperial crown, India.
Hart has severe misgivings. Always an outsider in British society, he doesn't like Whitehall's arrogant way of meddling in other people's religious and political affairs, but desperate for money, he takes the job and descends the Khyber Pass into a strange and violent land.
When his warnings are ignored by the pompous British Resident in Kabul, a terrible massacre occurs and soon Hart is on the run with a beautiful Afghan princess, in a race to prevent an uprising and head off a catastrophic British invasion.
Information
Format: Paperback
Pages: 352 pages, Map
Publisher: Hodder & Stoughton General Division
Publication Date: 23/06/2011
Category: Historical adventure
ISBN: 9780340953679
Free Home Delivery
on all orders
Pick up orders
from local bookshops
Reviews
Showing 1 - 2 of 2 reviews.
Review by DeltaQueen50
16/06/2015
Hart of Empire by Saul David is the sequel to Zulu Hart and I would class these books as historical adventures, very much in line with authors like Simon Scarrow and John Wilcox. In this book George Hart is asked by Prime Minister Disraeli to undertake a secret mission in Afghanistan. As George Hart is half Zulu his dark skin will allow him to disguise himself and travel undercover. His mission is to steal the religious icon that is the Prophet's Cloak in order to prevent it from falling into the hands of religious extremists.Of course his travels includes a trusty, eagle-eyed Pathan guide and a beautiful but dangerous princess, who has an agenda of her own. They embark on a series of adventures as they race against time to prevent a tribal uprising while protecting British interests. As this book is written in 2010, the author has many extra insights into the problems facing any country that tries to involve itself into the intricate political and religious factions of Afghanistan. The author, Saul David is an historian whose focus is on wars of the Victorian Era and so he knows the background and the period details of what he is writing about. He is also well able to write action scenes and puts plenty of them in his books. Unfortunately, his characters are fairly one dimensional, but if you are in the mood for an adventure yarn his books make for a fun read.
Review by PilgrimJess
27/08/2015
This is the second book featuring George Hart, a 19 year old British officer who is part Zulu so fairly darked skinned. On his return from the war against the Zulus George is summoned to Whitehall where he is asked to undertake a dangerous mission to Afghanistan where mistrust and dislike for the local ruler chosen by the British is growing and Muslim extremists threaten to overthrow the local government possibly putting at risk India. Whilst at the same time vested interests in India are looking for an excuse to invade Afghanistan.Although he suspects that the Establishment sees a part-Zulu officer as expendable, George agrees to the mission and accompanied only by a Pathan guide, he is descending the Khyber pass into a strange and violent land. On the way he meets Yasmin, an alluring Afghan princess, and together this unlikely trio find themselves in a race against time to prevent a tribal uprising and head off a catastrophic British invasion.The action is fast paced and although some historical facts have been distorted to suit the author's needs they are generally true. However, where the book falls down is with the character development. For me Hart or any of the other main characters were really believable and as such hard to really warm to. For me this was a decent piece of escapology that taught me a little about a war that I knew nothing about before but generally was just OK.