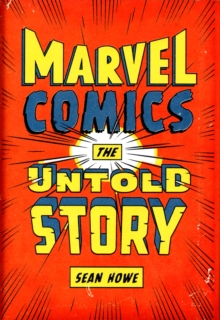 Marvel Comics : The Untold Story
Hardback
Description
"Sean Howe's history of Marvel makes a compulsively readable, riotous and heartbreaking version of my favorite story, that of how a bunch of weirdoes changed the world...That it's all true is just frosting on the cake."-Jonathan Lethem"Exhaustively researched and artfully assembled, this book is a historical exploration, a labor of love, and a living illustration of how the weirdest corners of the counterculture can sometimes become the culture-at-large."- Chuck KlostermanIn the early 1960s, Marvel Comics introduced a series of bright-costumed superhero characters-including Iron Man, the Hulk, Thor, the X-Men, the Fantastic Four, Daredevil, and the Amazing Spider-Man-that would evolve into a modern American mythology for millions of readers.
Over the last half-century, these characters have been passed along among generations of brilliant editors, artists, and writers who struggled with commercial mandates, a fickle audience, and, over matters of credit and control, one another.
Written by Sean Howe, former comic book reviewer and editor at Entertainment Weekly, Marvel Comics: The Untold Story is a gripping narrative of one of the most extraordinary, beloved, and beleaguered pop cultural entities in America's history.
Information
Format: Hardback
Pages: 496 pages
Publisher: HarperCollins Publishers Inc
Publication Date: 09/10/2012
Category: Publishing industry
ISBN: 9780061992100
Other Formats
Paperback from £9.19
EPUB from £6.99
eAudiobook MP3 from £27.74
Free Home Delivery
on all orders
Pick up orders
from local bookshops
Reviews
Showing 1 - 5 of 8 reviews.
Previous | Next
Review by JonathanGorman
16/06/2015
An excellent history that contained lot I actually didn't know about Marvel. I read this for pleasure, but I think I might have to track down a copy and re-read it, taking notes.I've liked Marvel comics, but fell out of reading them in the mid-90s. I haven't kept track of the recent history, but reading what happened behind the scenes makes it clearer how Marvel managed to seem to pull together as far as the movies at the same time the comics were all over the place. Only two criticisms of the book. One is that it is so crammed with information it occasionally get hazy. Told in a rough chronology, it'll refer to past and future events from the current point in the narration in a bit of confusing way at times. (For example, repeated mentions of the Silver Surfer and the importance to Kirby and Lee, but before the Silver Surfer actually appears makes it confusing if the discussion is referring to future events or early sketches of the character). I suspect the book could even have been longer, but they were worried about it pushing the limits. The results is hints occasionally at what could be very interesting side issues. (One example is the fact is mentioned that the DC-acquired Milestone was created by black Marvel ex-pats, but in a book that's dense with names the author doesn't actually even mention the names of the founders of Milestone. I suspect there's a paragraph about that on the cutting room floor.)Brought back a lot of memories of my comic reading days, both good and bad. Also gave me more series to try to track down (I don't collect comics any more, but hopefully some of this have come out in collections that I can borrow).
Review by nbmars
16/06/2015
I did not read <em>books</em> as a child. Rather, I grew up on "Archie and Veronica," "Millie the Model," "Tales From the Crypt," and "Superman," inter alia, not to mention my favorite comic compilation – "Mad Magazine." What I really appreciated, even then, was how social and political change was reflected in the comics.Thus it was with nostalgic pleasure as well as the thirst for background that I dove into <em>Marvel Comics: The Untold Story</em>. As it turns out, I wasn't <em>that</em> thirsty! To me, there is a little too much information for anyone but obsessive purists (of which there are apparently quite a few, however).The author takes us from the very beginnings of what would become Marvel to its purchase in 2009 by Walt Disney for $4 billion. In between, Howe gives us some insights into how the popularity of certain comics waxed and waned with world affairs, and the effect of the state of the economy and politics on sales. But most of the text is an in-depth look at the personalities and politics of the writers and artists behind the scenes. And when I say "in-depth" I mean astonishingly so. It is as if the author had a daily videotape running inside the offices during the entire history of Marvel Comics. After a while, it seemed more like it should be called "The Endless Internecine Squabbles of a Bunch of Angry and Frustrated Artists." Then again, this aspect of the history of comics is more relevant than one might think; certainly, according to the author, the text of the comics often included coded office politics, allowing for superheroes to exact revenge on disliked editors or rivals. The biggest beef the comic writers had was who got credit for what. Page after page of this quite long book chronicles the course of these arguments. There is also a lot of space devoted to the "superstars" of Marvel, Stan Lee and Jack Kirby, but not much about what made them tick; the author focuses more on who they ticked off, or who ticked <em>them</em> off….. <strong>Discussion:</strong> I don't think I was the proper audience for this book. There are many, many devotees who will appreciate the day-to-day grind and gripes of comics creators (almost 500 pages worth!), but I am not one of them. I am much more interested in background and analysis. [More to my taste is the book <em>From Krakow to Krypton: Jews and Comic Books</em>, in which author Arie Kaplan explains how the overwhelmingly Jewish make-up of early comicdom affected the content of the stories and the evolution of both the superheroes and the industry itself. It also includes plenty of full-color illustrations of landmark comic book covers and characters. Another creative look at comicdom I like from yet another approach is <em>Understanding Comics: The Invisible Art</em> by Scott McCloud that examines the <em>art form</em> of comics in the <em>art form</em> of a comic book! ] <em>Marvel Comics: The Untold Story</em> stays deep within the "bullpen," emphasizing interactions between labor and management. I would have liked more details about the Marvel Comics <em>fictional</em> universe and its denizens. When the book does discuss the characters or the nature of the drawings, there are no illustrations to help us visualize the points the author is making.Nevertheless, the research is impressive and book is well-written. There are some passages I loved, such as the one providing a rare (for this book) in-depth look at some of the characters drawn by Steve Gerber for "Jungle Action." After listing the supporting cast for "the Man-Thing" (including a barbarian who emerged from a jar of peanut butter), the author observes: "Amazingly, this was all conceived without the help of psychedelics."(As Howe documents, this wasn't always the case with all of the writers!)<strong>Evaluation:</strong> While I am not the proper audience, I want to point out that comic fans love this book, which has more inside dirt than I could have thought anyone could have collected! (The author notes in the "Acknowledgments" that "Much of this book is based on the personal recollections of more than 150 individuals…" He also drew from many, many articles and published interviews.) It just wasn't the right book for <em>me</em>.
Review by John_Pappas
16/06/2015
Amazing and you should read it. 'Nuff said.
Review by A_Reader_of_Fictions
16/06/2015
According to Goodreads, which likes to judge me for slowness, I've been reading Marvel Comics: The Untold Story since February 18th. Something taking me over a month to read is pretty much unprecedented, especially since I actually found this nonfiction audiobook pretty damn fascinating. What happened? Well, see, most of the chapters in Marvel Comics are an hour long on audio, and I typically just listen to 20-30 minutes as I get ready for bed at night or up in the morning. Stopping in the middle of a chapter is anathema to me, so finding sizable chunks of time to fit a chapter in was a serious pain.I think most book bloggers have certain kinds of reviews they find really tough to write. Well, one of the kinds I really don't know what to do with is non-fiction, but I'll do my best, I guess. I can't evaluate the accuracy of the info, because my only knowledge of Marvel going in was pretty much entirely limited to the film versions of their comics. I know you judge me comic book fans, but it's impossible for me to read ALL of their stuff, so I can't really read any of it.If you want to know about Marvel, this is a great resource. Now, it doesn't go very in depth into the comics, so if that's what you want, look elsewhere. What Howe does is give the inside scoop on all of the office politics and drama, and, oh lord, was there a ton of it. Basically, I'm not convinced that Marvel was run by a bunch of petty backstabbers. The history is just battles between management and creators.Oh, I'm also fairly certain that the comic book industry is where this stupid trope of characters dying and coming back to life, popping back into place like punching bags, came from. Not cool, comic books publishers. Other things that were not cool about comics: the racism and the treatment of women. Even more horrifying, there's still so far to go on those portrayals. Like, at one point in the 1960s, they wanted to target a female audience, so they had men write some titles like Night Nurse and She-Devil. Yeah, they really understand women.The thesis of Howe's book seems to be the difficulty the comic book industry has had finding a niche. Marvel has been near bankruptcy a dozen times, but always managed to find a way back into the market. In modern times, film adaptations and merchandising are pulling Marvel through, but something else is needed in the future, as less people actually seem to be reading comics. Basically, the comic book industry, like the rest of publishing, has to plan for the future.Stephen Hoye does a nice job narrating Marvel Comics, and it was pleasant to listen to, even though I would have gotten through faster with more chapter breaks. If you've ever been curious about the comic book industry from early days to the present day, Howe's written a book just for you.
Review by EricKibler
16/06/2015
I'm so verklempt!This book is on the one hand, a great trip down memory lane, and on the other hand, an open-eyed visit to the sausage factory. As an longstanding fan of Marvel Comics, I can't separate myself from my fandom enough to be able to tell you what this book can say to a non-fan. But to me, it brings back a lot of memories of characters and creators I've grown up (and into middle age) with. These characters and stories have been the backdrop of my life since, as a young DC fan, I first picked up the odd Marvel issue that always had "CONTINUED NEXT ISH! 'NUFF SAID" at the bottom of the last panel.I love the razzmatazz energy of Sixties Marvel, led by wildly imaginative artist/plotter Jack Kirby, extrovert/huckster/scripter/editor Stan Lee, introvert libertarian Steve Ditko and the rest. I also love the current era of wide-screen panels and smart, savvy dialogue. But perhaps my favorite era was the anything goes era of the early seventies, in which superheroes, swamp monsters, vampires, werewolves, demon-possessed motorcycle daredevils, blaxploitation private eyes, spacemen, kung-fu masters, and jungle lords all vied for attention and interacted with one another.You'll feel bad for a lot of the comic creators whose stories are told in this book. There's Kirby, who should have been a bazillionnaire, having created most of the characters who've made hundreds of millions for Marvel. There's Stan, who, although he did just fine financially, left the only thing he was ever good at (scripting and editing) in the early seventies and became an irrelevant sideshow barker, schmoozing with C-list Hollywood talent all through the 70s and 80s, until other, more connected and skilled negotiators achieved the movie dreams Stan had always coveted. Probably the saddest thing about Stan is his failure to appreciate the value of what he did. He still, at age 89, regrets not becoming a novelist or screenwriter. There were writers Steve Englehart, Doug Moench, Don McGregor, and Steve Gerber, who brought new sophistication to the comics of the seventies, but who (to a man) all got raw deals.You'll sneer at the venal, clueless corporate raiders who asserted their whims on the company in the eighties and nineties, and nearly destroyed it, although they lined their pockets nicely on their way out, as such people do. May history forget all of their names. I won't name them here.You'll nod your head in recognition at an example of the Peter Principle when Jim Shooter takes charge as editor-in-chief. He had always been a decent comics writer, but as an editor, he was a petty martinet who imposed storytelling rules that stifled creativity for years.If you lived through the turn of the millennium as a Marvel fan like I did, you'll reluctantly give due credit to company president Bill Jemas, who though considered unlikable by most fans at the time, was probably responsible for the junking of the creatively stultifying Comics Code Authority, and goosed the company into being more adventurous with content.One writer who gets short shrift in the book is Peter David, who maintained a high level of quality on the books he wrote throughout the mediocre eighties and nineties. A true unsung hero.