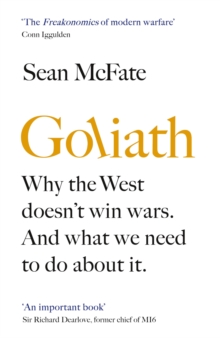 Goliath : Why the West Doesn't Win Wars. And What We Need to Do About It.
Hardback
Description
THE TIMES 100 BEST BOOKS FOR SUMMER'AN IMPORTANT BOOK' Sir Richard Dearlove, Former Director of MI6 'The Freakonomics of modern warfare' Conn IgguldenEverything you think you know about war is wrong.
The rules have changed, and we are dangerously unprepared.
In Goliath, former paratrooper and Professor of Strategy Sean McFate teaches us the ten new rules of war for today. __________War is timeless. Some things change - weapons, tactics, leadership - but our desire to go into battle does not.
We are living in an age of conflict: global terrorism, Russia's resurgence and China's rise, international criminal empires, climate change and dwindling natural resources.
But while the West has been playing the same old war games, the enemy has changed the rules. Sean McFate has been on the front lines of conflict.
He has seen first-hand the horrors of battle, and as a strategist, he understands the complexity of the current military situation.
In this new age of war: - Technology will not save us - Victory will belong to the cunning, not the strong- Plausible deniability is more potent than firepower - New types of world powers will rule Learn how to triumph in the coming age of conflict in ten new rules.
Adapt and we can prevail. Fail, and size and strength won't protect us. This is The Art of War for the 21st century. __________'Some of what he says makes more sense than much of what comes out of the Pentagon and the Ministry of Defence' Max Hastings, Sunday Times'Thought-provoking' Johnathon Evans, Former Head of MI5'Fascinating and disturbing' Economist
Save 32%
Free Home Delivery
on all orders
Pick up orders
from local bookshops
Also by Sean McFate