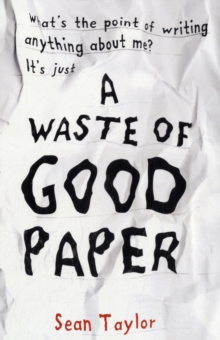 A Waste of Good Paper
Paperback
Description
The story of Jason, a boy at Heronford School for children with emotional and behavioural difficulties.
The journal tells of the comic and sometimes uncomfortable day to day events at the school, with Jason, his teachers and classmates. And it explores his family life with his mother, who has recently given up taking heroin, and her violent, drug-taking ex-boyfriend, who returns unexpectedly. And then there is the storyteller who works at the school.
He tells the boys the Russian folktale of a young man with a faithful horse, who overcomes a manipulative king.
Jason is searingly, touchingly honest about his life and relationships, and through his journal he begins to reach an understanding of himself. This is a brilliant debut teenage novel, to be compared with The Curious Incident of the Dog in the Night-time.
Information
Format: Paperback
Pages: 290 pages
Publisher: Frances Lincoln Publishers Ltd
Publication Date: 03/05/2012
Category: General
ISBN: 9781847802682
Free Home Delivery
on all orders
Pick up orders
from local bookshops
Reviews
Showing 1 - 4 of 4 reviews.
Review by SmithSJ01
16/06/2015
Such an unusual idea but does it work? In the main yes, however you do have to approach it with the mindset that this young boy admits that whilst his teacher thinks he is good at writing he thinks he's ordinary (but slightly better than some of the other boys). Thereby meaning that you won't get correct sentence structure and it can sometimes read jumbled; what this does do is give it such an authentic feel for a child narrator that you soon start to think like Jason.I don't know if we ever find out how old Jason is but as he is at secondary school and already been to one other school, I'm guessing that he's between 12 and 15. He attends Heronford School for children with emotional and behavioural difficulties and the book chronicles his daily activities – some humorous and some painful to read. He writes the diary at the request of one of his teachers and although initially thinks it is a waste of time, he grows to rely on the diary more than he realises. The visiting writer and musician to the school provide a lot of the background of the diary and whilst I personally skipped parts of the Russian folklore tale that Aaron (the storyteller) is telling the pupils, it provokes evocative responses in the pupils. I did enjoy the musician's (Richard) part of the story as Jason definitely doesn't want his instrument and it has some entertaining outcomes.I read this book for two reasons. Firstly, I teach in a secondary school for children with social, emotional and behavioural difficulties and I couldn't imagine how this could be transferred into a piece of fiction but I was pleased at how some of the complex parts of the job came across so well in the story and as we also have a visiting writer, I could visualise him when I was reading it, which was nice. Secondly, I thought that this was an original idea and although I don't feel it will entertain a wide-range of readers there is definitely a market for something slightly different. The only part I feel needed more clarification was as to how Jason's school was set up, there were clearly only a few pupils in each year group but I don't feel that was fully explained. This meant that when Jason had to spend time with one of the other groups, I wasn't clear whether they were younger pupils. A teeny criticism but one that would have made my appreciation of that particular diary entry clearer. It isn't possible to review too much about the plot but there is so much happens in his relationship with his mam that as both a reader and a professional working in this field I felt my heart strings tugging and wanted to read more. Well worth a read and one I'll be sharing with friends and colleagues.
Review by hashford
16/06/2015
This book is told over a few chaotic weeks in his life when Jason's mum's ex-boyfriend returns. At first it seems like he is well out of the drug business and is the ideal boyfriend, but soon the mask starts to slip and we find out he hasn't changed at all, and poor Jason watches as his mother starts to fall into the same trap as before, dragging him along for the ride. He feels powerless to help her or himself, after all he's only a child, and he doesn't want another care order put on him, what can he do? Meanwhile at school he struggles with his frustration, is annoyed by another pupil and has the constant cloud of past incidents hanging over him.This book is a brilliant book, and we learn that the other minor characters have their own problems, even if we don't know what they are, and this adds a reality and depth to the book that can be difficult to find.Jason is one of the strangest and best written characters I've read in a while. The whole story is written in the form of his journal, which his teacher encouraged him to write, and it serves as a window to the world through his eyes. He is a disillusioned child, but with none of the cynicism or protective walls of an adult, and the writing style is a good portrayal of how a young boy writes. But this can get quite annoying at times though, as he only writes the most simplistic of sentences and his grammar is appalling. I found myself craving a sentence with a comma in, or some nice long descriptive writing. However if you can tolerate that my advice is give it a read, as this is an exceptionally well written book, skilfully showing us how he feels about his life without the aide of the occasional comma.
Review by arkgirl1
16/06/2015
As with many other reviewers I come from a background of working with teenagers that are often termed as 'challenging' and I certainly recognised many of the character traits amongst the staff and pupils. The teaching staff cover some of the 'special' school cliches but they the way they are portrayed also touches on the humour and 'listening' skills that are often key aspects of this work.Jason is a teenage boy currently attending a school for those with emotional and behaviour problems, Heronford, and he lives alone with his mum. Pete, his main teacher, suggests that he writes a private journal that initially Jason feels is a 'waste of paper' so he scrawls nonsense or writes silly jokes but gradually we discover it is becoming more and more important to him.Jason's character is complex and this is effectively conveyed through this journal, his voice comes through loud and clear, Taylor has created a young man that we can recognise and root for and I found myself disappointed that we only got to see a few of weeks of his life.The journal is only written for a short period of time and it is at a point where the school have brought in a writer and musician to do creative work leading to a performance for parents. These lessons provide some comedic moments but also some opportunities to movingly show the possibilities when teachers find a 'hook' when working with disaffected young people.Outside of school we also have conflict and problems that are explored through the journal and although some of the situations might be a little too easily resolved that is only a small quibble in what is otherwise a challenging look at this aspect of education. It effectively shows how behaviour is often greatly affected by external factors and thus bright, intelligent young people can find themselves struggling to conform when personal situations/issues crowd in.Jason's journal is told with truth and humour; a great children's book to start discussions on looking behind 'difficult' behaviour.
Review by presto
16/06/2015
Jason attends a school for children with behavioural difficulties when his tutor presents him with a book in which he can write a daily journal, and although Jason thinks this is "a waste of good paper" and he has nothing he wants to write, he very soon finds himself keeping a daily journal.Jason's journal takes us through less than one month, and describes both his school and home life - the troubles with his fellow students, the times he loses it and is in trouble with his teachers, and at home the troubles his mother had on the past with drugs, and the resurgence of troubles as his mother's old boy friend reappears on the scene. A whole lot of troubles, but even against that Jason manages to makes progress and come out on the up.Aimed at teens this book should not be ignored by adults, it makes a surprisingly good read. It is written very much in the voice of a young teenager (and even produced as if it were a facsimile of Jason's actual journal, handwritten on lined paper). It is very revealing and really gets into the mind of a troubled boy, but Jason is not unintelligent, and he writes with his own individual flair, and he has a seemingly endless supply of entertaining similes.A Waste of Good Paper is frequently very funny, occasionally quite moving, and always enlightening. Despite his tantrums and other faults you cannot help but love Jason and hope he will eventually get beyond all his troubles. Highly recommended.