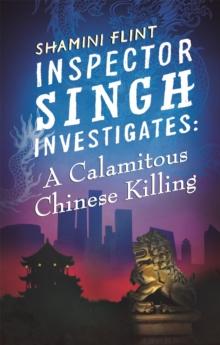 Inspector Singh Investigates: A Calamitous Chinese Killing : Number 6 in series
Paperback
Description
Inspector Singh is on a mission to China, against his better judgment.
The son of a bigwig at the Singapore Embassy has been bludgeoned to death in a back alley in Beijing.
The Chinese security insist that he was the victim of a robbery gone wrong, but the young man's mother demands that Singapore's finest (in his own opinion) rides to the rescue.But solving a murder in a country that practices socialism 'with Chinese characteristics' is a dangerous business. And it soon becomes apparent that getting to the bottom of this calamitous killing will be his toughest case yet . . .
Information
Format: Paperback
Pages: 320 pages
Publisher: Little, Brown Book Group
Publication Date: 05/09/2013
Category: Crime & mystery
ISBN: 9780749957797
Free Home Delivery
on all orders
Pick up orders
from local bookshops
Reviews
Showing 1 - 3 of 3 reviews.
Review by cathyskye
27/08/2015
Shamini Flint's Inspector Singh series is one of my favorites. Not only does she let me travel to countries that I will never see, she gives me a real feel for each one-- geographically, politically, and culturally. They're perfect for armchair travelers. In some ways Flint's Inspector Singh of the healthy appetite and blindingly white sneakers reminds me of Tarquin Hall's Vish Puri in New Delhi. For one thing, both characters will have you sampling some spicy and delicious cuisines-- and isn't that a fantastic way of having books appeal to all our senses?As Singh begins to investigate, he quickly learns how difficult it can be to seek truth from facts in a country where rumors are currency. Once again he's going to have to rely on an interpreter, and this time he is blessed with the one he's given: Li Jun, a retired policeman who can help Singh with so much more than just the language barrier. As these two become acquainted with each other, they make quite a team.As in most investigations, there are several threads that must be unknotted before the truth can be known. The fate of the dissident Professor Luo shocked me down to my marrow and will stay with me, much as a scene from Dominque Lapierre's City of Joy published in 1985 has done. The childless Singh is led to the professor by a brave young woman named Dao Ming, and he meets yet another named Jemima. The way he deals with these girls proves that even though he has no children, he does have a way with them.The mystery in A Calamitous Chinese Killing was one of putting all the pieces of the puzzle together. The bad guys were easy to spot, but all the whys and hows and whens were the difficult bits. It's a mystery that entertains on many levels and one that evokes many emotions. From the aforementioned horror to humor, as when Singh's "driver weaved between lanes like a fighter pilot avoiding enemy fire." A word of warning: have a box of tissues handy before reaching the end of the book because Singh also manages a very strong tug on the heartstrings, too.I highly recommend all the Inspector Singh books, but if you're worried about starting yet another series, each one stands alone well. I can't wait to see where Inspector Singh will be headed next.
Review by Eyejaybee
16/06/2015
I enjoyed 'A Most Peculiar Malaysian Murder', the first book in this series featuring Inspector Singh from the Singaporean police force, and was looking forward to this latest episode. The premise behind the series is quite simple - prominent members of Singaporean society are killed in various locations all around the Far East, and Inspector Singh is despatched either to help the local force catch the culprit or, more frequently, to re-open a woefully inadequate investigation conducted by the police.Inspector Singh is a likeable character who seeks refuge in his work from the predations of his terminally dissatisfied wife and the (not always unjustified) exasperation of his boss, Superintendent Chen. Built for comfort rather than speed, Inspector Singh prefers to think things through.As this novel opens, Singh has recently returned from Mumbai where he had been attending a family wedding while also investigation a ruthless murder, and he is looking forward to a restful few days. No such luck. He is summoned by Chen who tells him about the recent death in Beijing of Justin Tan, teenage son of Susan Tan, First Secretary in the Singaporean Embassy in China. The Chinese police had investigated but seemed satisfied that Justin's death was simply the regrettable consequence of a street robbery that ad gone wrong. Susan Tan remains unconvinced and, after pulling strings in high places, she manages to have Singh assigned to the case.As Singh delves more deeply it transpires that Justin was helping one of his professors at Beijing University, who had been campaigning to prevent property developers building over housing projects in the poorer areas of Beijing, forcing the current occupants into homelessness. Justin seems to have been probing too far and was murdered, both to keep him quiet and to send a message to anyone else who might have been tempted to join him.The scenario is well developed, and Inspector Singh seems to be relishing a difficult challenge. However, at this point Shamini Flint seemed to lose control of things, and the story started to ramble unnecessarily. She did re-establish control in the last quarter and pulled the various threads together satisfactorily, though the characters of the various baddies throughout the book were rather two dimensional.
Review by cygnet81
27/01/2016
Also in the Inspector Singh Investigates Series series | View all