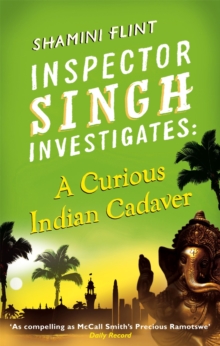 Inspector Singh Investigates: A Curious Indian Cadaver : Number 5 in series
Paperback
Description
Inspector Singh is sick of sick leave, so when Mrs Singh suggests they attend a family wedding in Mumbai, he grudgingly agrees - hoping that the spicy Indian curries will make up for extended exposure to his wife's relatives.Unfortunately, the beautiful bride-to-be disappears on the eve of her wedding - did she run away to avoid an arranged marriage, or is there something more sinister afoot?
When a corpse is found, the fat inspector is soon dragged into a curious murder investigation with very firm instructions from Mrs Singh to exonerate her family.
But as he uncovers layer upon layer of deceit, he knows it isn't going to be that easy...
Information
Format: Paperback
Pages: 320 pages
Publisher: Little, Brown Book Group
Publication Date: 27/03/2012
Category: Crime & mystery
ISBN: 9780749953423
Free Home Delivery
on all orders
Pick up orders
from local bookshops
Reviews
Showing 1 - 3 of 3 reviews.
Review by JulesJones
16/06/2015
Fifth installment of the series about Inspector Singh of the Singapore police, forever being shipped off elsewhere to get him out of his superiors' hair. This time he's on compulsory sick leave, and thus can't claim pressure of work to avoid being dragged by Mrs Singh to a family wedding in India. But the Singhs arrive only to find that the bride-to-be has disappeared. The last thing her immediate family want is the police involved, because of the social stigma -- the obvious motive for the young woman's disappearance is to avoid an arranged marriage. For the family patriarch, worried about his granddaughter's welfare as well as her reputation, an investigation by a family member who just happens to be a member of another country's police force is a much more appealing prospect. Then a corpse turns up, and the local police are involved whether the family likes it or not. But Singh keeps digging, and finds a tangle of motives that he's not willing to ignore.Once again Flint has blended a police procedural with a sensitive look at the ramifications of a real life tragedy. This book is deeply rooted in Sikh culture, and that includes the ongoing after-effects of the 1984 riots and massacre in India. But the latter does not overwhelm the book -- it is only one strand in a complex story about a complex society. A particular feature of the book is that it is quite openly an outsider's view of India, complete with an outsider's prejudices and reactions -- but the outsider here is not a white European, but a member of the Indian diaspora of Singapore. Singh finds India at once both alien and familiar, and this colours his reaction to the things he encounters during his investigation.Singh is a joy of a character to read about, and Flint has created yet another fascinating twist to her series hook of a police inspector who frequently ends up investigating murder well outside his official jurisdiction. The Singaporean Sikh is a marvellous addition to the ranks of maverick detectives in mystery fiction, and I'm very much hoping that there will be a sixth book in the series.
Review by smik
16/06/2015
I have now read three in this series, and enjoyed this one even more than INSPECTOR SINGH INVESTIGATES: A BALI CONSPIRACY MOST FOUL which I read earlier this year.Just as she did with that title, Flint has taken a catastrophic event and placed Inspector Singh in the middle of it. This time the event is an act of terrorism in Mumbai, bombings of a mosque and market place, based loosely on what happened in Mumbai in 2008 and 2011.This time Inspector Singh is accompanied by Mrs Singh who drags her husband to Mumbai for a family wedding. The Prologue, which you can read in the Amazon sample, describes what happened to the family in the Sikh victimisation that followed the assassination of Indira Ghandi in 1984.The wedding the Singhs are to attend is an arranged one, just as the Singhs' own marriage was. But when the bride to be disappears the head of the family asks Inspector Singh to investigate, rather than approach the police.What I like about these novels is the grounding in real events. In A CURIOUS INDIAN CADAVER the terrorism in Mumbai is combined with the environmental degradation and human exploitation caused by a chemicals factory.I also love the quirky humour. This time Mrs Singh is the Inspector's sounding board as well as being his biggest critic. Mrs Singh is a very astute observer.Shamini Flint also seems to capture the essence of Indian English, even Mrs Singh speaks an English that seems to leave out prepositions and the like. And then there is the Inspector's own sense of humour. They both looked out at the churning sea, the harbour littered with small boats and large ferries. In the foreground, right on the waterfront, was a massive pastel yellow arch - the Gateway of India. 'It was built to welcome King George V when he visited India', explained his well-briefed, Google-friendly wife. 'Didn't they think a bunch of flowers would do?' asked Singh. 'Anyway it was only completed twelve years after the visit.' Singh grinned. That was the sort of managerial incompetence that he found amusing.Most enjoyable. I'll be going back to read #3 and #4.
Review by cathyskye
16/06/2015
Shamini Flint has created a series that I love to read. The character of Inspector Singh is the perfect blend of humor and intelligence, and there's the added bonus of following him from case to case throughout Southeast Asia. In many ways this series is comparable to Tarquin Hall's which is set in India and features private investigator Vish Puri. Both give Westerners insight into incredibly rich cultures so very different from their own.A Curious Indian Cadaver begins with an emotional blockbuster of a scene set in 1984 immediately after the assassination of Indira Gandhi. When the news spread that she was killed by her Sikh bodyguards, it led to massive reprisals against anyone of that religious faith. This scene casts a long shadow of foreboding over the entire book. Any reader will know that what happens will never be forgotten. There will be consequences. This fifth book in the series lets us see much more of the dreaded Mrs. Singh, a woman of the strongest opinions who is the main reason why the inspector loves to be constantly on the job. (She's a marvelous cook, so he does like to be home at meal time however.) Readers get to see how this odd couple fits in with their relatives in Mumbai-- those family connections which are so all-important in India-- and it gives Mrs. Singh a chance to see her husband in action... even to put herself in his shoes for a second or two. After being in her company for such an extended period, the inspector begins to see his wife in a different light as well. Will they get along better in future? Only time will tell.The powerful opening scene that I mentioned earlier in many ways weakened the mystery for me. I knew that "payment" was due for 1984, and that made certain aspects of the plot rather predictable. But as I've stated in other reviews, the best crime fiction isn't merely about crime. It's also about characters, setting, and motivations. A Curious Indian Cadaver brought India to life for me and gave me a greater appreciation of its culture. I thought about how some people never seem to realize that two wrongs don't make a right, as tired as that phrase may be. It also allowed me to spend time with one of my favorite characters. Inspector Singh never ever disappoints!
Also in the Inspector Singh Investigates Series series | View all