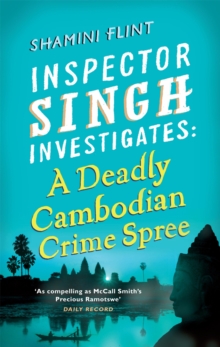 Inspector Singh Investigates: A Deadly Cambodian Crime Spree : Number 4 in series
Paperback
Description
Inspector Singh is in Cambodia - wishing he wasn't.
He's been sent as an observer to the international war crimes tribunal in Phnom Penh, the latest effort by his superiors to ensure that he is anywhere except in Singapore.
But for the first time the fat Sikh inspector is on the verge of losing his appetite when a key member of the tribunal is murdered in cold blood.
The authorities are determined to write off the incident as a random act of violence, but Singh thinks otherwise.
It isn't long before he finds himself caught up in one of the most terrible murder investigations he's witnessed - the roots of which lie in the dark depths of the Cambodian killing fields. . .
Information
Format: Paperback
Pages: 320 pages
Publisher: Little, Brown Book Group
Publication Date: 07/04/2011
Category: Crime & mystery
ISBN: 9780749953478
Free Home Delivery
on all orders
Pick up orders
from local bookshops
Reviews
Showing 1 - 2 of 2 reviews.
Review by JulesJones
16/06/2015
The fourth of the series about the portly chain-smoking Inspector from Singapore's police service. This time Singh has been volunteered to hold a watching brief on behalf of ASEAN at the Cambodian war crimes tribunal. The idea is to kill two birds with one stone by 1) keeping him out of his superiors' hair and 2) providing a top murder cop as a delegate as a political exercise. Nobody expects Singh to actually *do* anything other than be obviously present, and he calls on his local counterpart purely out of politeness. Colonel Menhay has quite enough on his plate, between running an investigation into a serial killer who is targeting former Khmer Rouge, and heading up the security for the current trial at the tribunal. But then someone kills a tribunal witness. The UN liasion wants a top murder cop with no ties to Cambodia in joint charge to provide the investigation with credibility in the eyes of the world, and that cop is Singh.Singh's experienced at working on secondment in other countries, but until now he's always had at least some grasp of at least one of the local languages. This time out he's far more reliant on help from the locals, particularly his interpreter/guide, and has to adjust his methods to suit. And then there are the ever-present ghosts of Cambodia's past, which must be faced to solve the murders in the present. Singh has confronted murder in bulk before, but never on the scale of genocide.But Singh doesn't let these things deter him from his dogged pursuit of justice for the dead. A justice that requires that the right person be convicted of the crimes, and as ever, Singh is not willing to simply take the first convenient suspect that comes to hand.As with the Bali book earlier in the series, Shamini Flint has taken a real life tragedy and woven a compelling murder mystery around it. If handled badly it could have been merely exploitative, but this book treats the subject of the Cambodian genocide with great sensitivity. And as with the earlier book, Flint has managing the difficult trick of blending a gentle humour through much of the book without trivialising the crimes she's writing about. Along the way we see how the apparently simple choices people make can haunt them for the rest of their lives. And once again we have the wonderful character of Inspector Singh, with an excellent supporting cast of one-off characters. This is a powerful story, with characters who make you care about their fate. A worthy addition to the Inspector Singh series.
Review by cathyskye
16/06/2015
I have enjoyed each book in this series for the character of Inspector Singh and for the depiction of areas in Southeast Asia that I probably will never see. A Deadly Cambodian Crime Spree contains what I've learned to love about Shamini Flint's writing and then proceeds to take it to an even higher level. "It was Singh's life mission to tramp after the murderers in his snowy white sneakers, following the evidence and his instincts, ignoring the advice and warnings of his superiors, stopping only for regular meals, cold beer and the odd afternoon nap, until he had ensured some justice for the dead." Inspector Singh is his usual irascible self-- a man who loves his work, a man who appreciates time away from his ill-tempered wife, a man who manages to put up with his superior officers. In the eyes of those "superiors," policing is all about appearances, and the turbaned, overweight, chain-smoking, white sneaker-wearing inspector just does not fit their idea of what the police force in Singapore should look like. The only reason they don't get rid of him is because his success rate is so high. So they let him solve murders and hope as many of them as possible occur somewhere far away. "He remained a policeman under sufferance, his bosses always looking for an excuse to get rid of him. He suspected that deep down they feared someone whom they could not control, who valued a victim's right to justice more than the rules and regulations of the Force."Part of the delight of reading these books is in seeing how Singh can circumvent the rules and regulations his superiors are trying to impose. He doesn't take shortcuts in interviewing witnesses or suspects, or in collecting evidence. He's just learned the best ways to avoid all those silly "for appearance's sake" rules.What brings this book to an even higher level is its setting. Shamini Flint brings Cambodia's tragic history into sharp focus without being graphic about it. In imposing a radical form of agrarian socialism on his people, Pol Pot, his policies, and his henchmen were responsible for the murder of 25% (at least two million) of his country's people. Cambodians could be killed for wearing glasses or for being seen reading a book or for speaking a foreign language. By having Singh bear witness to the testimonies of those who survived at this international war tribunal, readers experience a tiny bit of the horror of the killing fields. Once he's an official part of the murder investigation and helping Colonel Menhay, Inspector Singh learns that vengeance runs deep in Cambodian society. There are several suspects for this murder, but the truly mind-boggling part is in putting facts and supposition together in order to discover the true identity of each suspect, each person's motivation, and-- since the body count does rise-- exactly which suspect is responsible for the death of each victim. And always in the background is the serial killer who roams the countryside murdering former members of the Khmer Rouge.If the phone had rung or if someone had knocked on the door while I was reading A Deadly Cambodian Crime Spree, I would have ignored them. I was totally engrossed in this story, and I had to see how Singh and Menhay solved the case. In the end, I learned that my involvement led to my ignoring Flint's subtly planted clues. The identity of one of the murderers shocked me-- and that was the icing on the cake. One of my favorite characters, an emotionally charged setting which both taught and entertained, and a truly puzzling case. I highly recommend this book-- and the entire series.
Also in the Inspector Singh Investigates Series series | View all