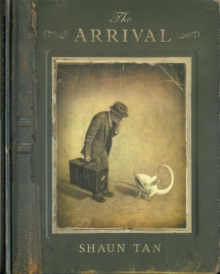 Description
What drives so many to leave everything behind and journey alone to a mysterious country, a place without family or friends, where everything is nameless and the future is unknown.
This silent graphic novel is the story of every migrant, every refugee, every displaced person, and a tribute to all those who have made the journey.
Information
Format: Hardback
Pages: 128 pages, Throughout
Publisher: Hachette Children's Group
Publication Date: 15/11/2007
Category: Picture books
ISBN: 9780340969939
Other Formats
Paperback from £8.75
Hardback from £11.79
Multiple copy pack from £35.05
Free Home Delivery
on all orders
Pick up orders
from local bookshops
Reviews
Showing 1 - 5 of 5 reviews.
Review by eleanor_eader
16/06/2015
I love what Shaun Tan does with words. He removes them, and then gives them back to us in a new way.The arrival is beautifully drawn – not just the pages, but the emotions and the surreal, intuited understanding of the unfolding tale. It's a story about immigration and separation and it works on many levels. The 'reader' is in a strange country; there is no text, no language except a new visual landscape, which, for our delight, is full of small mascot-like pets and the intriguing artefacts of this charming and evocative new world.I don't really want to write a review of this book: I want to draw you a picture.
Review by elmyra
16/06/2015
Paul bought this a few weeks ago, on a weekend when I was feeling particularly moody and emotional, so I didn't read it at the time. I knew it was going to make me cry regardless, and I thought I had better wait until I could actually cope with it.And make me cry it did. I've been there. Those stories are my story. From the faceless immigration procedures ('I'm sorry, but your visa is not valid until midnight. You cannot enter the country for another three hours.'), to watching my father leave to start a new job somewhere far away from home, in the hope that we would be able to join him soon (twice, no, three times), to going around the supermarket, marvelling at everything and wondering which bits were edible and which weren't (fruit yoghurt!?), to the first dinner my Dad cooked for us once we had joined him (I will always remember it), to not speaking a word of the local language (but blagging it nonetheless), to the kindness - and sometimes otherwise - of strangers. I've been there. This book is amazing. Without a single word, only with pictures - beautifully drawn, wonderfully expressive - it captures the story of migration. Everyone who has ever upped sticks in search of a better life in a foreign place will find themselves reflected in these pages, and it is done beautifully, compassionately, with great skill and understanding. It is clearly a labour of love.
Review by kidzdoc
16/06/2015
This graphical wordless novel by the Australian author and illustrator Shaun Tan, which has won numerous awards in Australia and was one of <i>The New York Times</i>'s best illustrated books, is a moving story of a man who leaves his wife and young daughter to pursue opportunities in a foreign land. His new home, a major industrial city, is populated by strange people, pets and objects, but he manages to find work and meet friendly people, who have also migrated to the city from other strife torn lands. The illustrations are extremely well-drawn, and place the reader both in the past and in an uncertain, surreal future. This book will both resonate with young (preteen) readers and adults, who will better appreciate the complexity and history underneath the subplots.
Review by Sorrel
16/06/2015
This a pictorial story explores the difficulties and triumphs of a migrant. It is beautiful and slightly surreal; accessible on one level, yet also difficult to absorb wholly - the sort of book to read many times over.
Review by SandDune
16/06/2015
I'm not sure if I can really say that I have read this book as it has no words at all. But I can say that I found it quite amazing and my first ***** book of the year. I would recommend any one with an interest in graphic novels or picture books or the experience of being an immigrant in a strange country to read this book. I can't recommend it too highly.Halfway between a graphic novel and a picture book the story of a father's travel to a strange country in search of a better life for his family is told completely in black and white and sepia pencil drawings, some aged and crumpled like an old photo. At first my assumption was that the man was emigrating from a European country to the United States, but on arriving at the destination a far more surreal experience awaits. Tan captures the strangeness of the immigrant experience by giving us a country where very little is recognisable from the food, to the animals people keep as pets, to the written and spoken language. But people are the same and the book celebrates the power of friendship as the man meets other immigrants who tell him their stories and help him make his own way in his new world. Much of the book was apparently inspired by Tan's father's experience emigrating from Malaysia to Australia in the 1960's but he clearly draws on many other experiences as well.This is certainly not a picture book for young children as there are some quite graphic images of war and death. But older children might find it really thought provoking once they got over the lack of words (and the lack of colour). I'll be looking out for anything else Shaun Tan has done. I definitely want my own copy of this book.