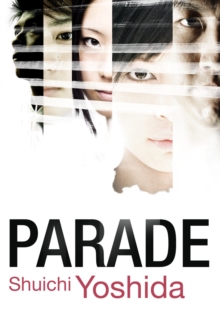 Description
Four twenty-somethings share an apartment in Tokyo.
In "Parade" each tells their story: their lives, their hopes and fears, their loves, their secrets.
Kotomi waits by the phone for a boyfriend who never calls.
Ryosuke wants someone that he can't have. Mirai spends her days drawing and her nights hanging out in gay bars.
Naoki works for a film company, and everyone treats him like an elder brother.
Then Satoru turns up. He's eighteen, homeless, and does night work of a very particular type.
In the next-door apartment something disturbing is going on. And outside, in the streets around their apartment block, there is violence in the air.
From the writer of the cult classic Villain, Parade is a tense, disturbing, thrilling tale of life in the city.
Information
Format: Paperback
Pages: 240 pages
Publisher: Vintage Publishing
Publication Date: 03/03/2014
ISBN: 9781846552373
Other Formats
Paperback from £6.65
EPUB from £3.99
Free Home Delivery
on all orders
Pick up orders
from local bookshops
Reviews
Showing 1 - 1 of 1 reviews.
Review by Opinionated
27/08/2015
Well this is quite excellent. Published in 2002 but only translated into English now, it is the most realistic depiction of twenty somethings and Japanese culture I have read for some time. Bored and listless, our protagonists don't rebel, don't attempt to "find themselves", don't attempt to take control of their lives. They simply passively exist and have no ambition or enthusiasms2 Boys and 2 Girls share a flat. Disconnected from their families, and seemingly having few real friends they increasingly depend on each other without delving below the surface or forming real friendship bonds. As one says, "its like living in an Internet chat room".Ryosuke, a shy college student spends his Sundays staring at the traffic below wondering why cars don't crash at the traffic lights. He somehow manages to start an affair with Kawako, the girlfriend of his college mentor, and pursues it listlessly whilst taking a part time job cooking in a Mexican restaurant. Koto, sits and waits for her actor boyfriend to call, which he occasionally does. She cleans the apartment and watches TV. Mirai parties constantly but joylessly, battles constant hangovers and watches rape scenes from films to calm herself. Naoki has the best job, with a film distributer, and is seemingly the most well adjusted even if constantly bugged by his ex girlfriend who feels more at home with him than her new, respectable, boyfriend. And in his own way, he does take action to break the listlessnessSuddenly Satoru arrives, younger than the rest, seemingly homeless and with a mysterious night job, he is either dragged home drunkenly by Mirai, or breaks in and makes himself at home. Either is possible - as Satoru admits, everything he says is made up. He despises his new flatmates, and sees through the fronts each put up but then finds himself irresistibly pulled to their artificial community, andit is Satoru who is on hand to pull the household together and restore "normality" when a final crisis happens.The ending is somewhat inevitable given the way the book is structured, but is no less surprising and morally ambiguous for that. I left the book wanting more and wondering how the last decade has treated the flatmates. I somehow feel Koto is still there, watching TV, waiting for the phone to ring