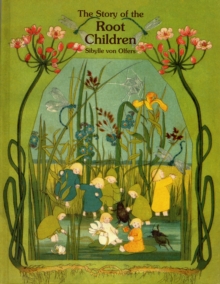 The Story of the Root Children
Hardback
Description
All through the winter the Root Children are asleep underground, but when spring comes Mother Nature wakes them up.
Then the Root Children are busy cleaning and painting the beetles and bugs.
When summer comes they play in the fields, ponds and meadows. Also available in a mini-version.
Information
Format: Hardback
Pages: 24 pages, colour illustrations
Publisher: Floris Books
Publication Date: 01/04/1990
Category: Picture books
ISBN: 9780863151064
Free Home Delivery
on all orders
Pick up orders
from local bookshops
Reviews
Showing 1 - 1 of 1 reviews.
Review by gundulabaehre
16/06/2015
Sibylle von Olfers' <u>Etwas von den Wurzelkindern</u> is likely my very favourite German language picture book (I would even place it among my favourite picture books of all time). I loved this book when my grandmother first read it to me when I was a toddler, and I still love both the text (the original German text) and the luminous "Jugendstil" illustrations with all of my heart and soul (a wonderful homage to spring, rebirth, joy, and to the loving care that Mother Earth gives to all). For a picture book originally published in 1906, it remains remarkably fresh and current and continues to be a top-seller, a perennial favourite in Germany, Austria and Switzerland. A German review on Amazon describes <u>Etwas von den Wurzelkindern</u> as soul-nourishment for the youngest, and while I heartily agree with that statement, I think that this book is soul-nourishment not only for the youngest, but for everyone (I can actually recite most of the original text from memory, that is how much I love this book, how much I adore this book).<u>The Story of the Root-Children</u> (originally published in 1990 by Floris Books of Edinburgh, Scotland) is touted as being an English language translation <u>Etwas von den Wurzelkindern</u> (the translator remains anonymous). Now I am not trying to be dismissive and disrespectful to anyone who has read and enjoyed this book, but for me, the <b>only</b> thing which makes <u>The Story of the Root-Children</u> even remotely worthwhile are Sibylle von Olfers' lush and luminous original illustrations. The text simply does not work for me; in fact, I rather <b>despise</b> it. I know that a translation is never, and can never be the exact replica of the original, but there is not even the vestige of the original German text, of its poetry, cadence and rhythm left in <u>The Story of the Root-Children</u>. Sibylle von Olfers original text, beautiful, evocative and simple enough to share with even the youngest children, has been transformed into a loose adaptation (I cannot, in all honesty, even call this a translation), devoid of any of the poetry and much of the magic that have made <u>Etwas von den Wurzelkindern</u> such a treat, such a joy to read. Furthermore, the text of <u>The Story of the Root-Children</u> has been expanded to such an extent (additional words, actions, scenarios) that, in my opinion, the book has ceased to be a picture book for very young children and has been turned into a textually dense retelling, a loose adaptation more suited for slightly older children. Now if <u>The Story of the Root-Children</u> had been described and marketed as an adaptation, a retelling of <u>Etwas von den Wurzelkindern</u> (with the author of the text identified, and Sibylle von Olfers named as illustrator), I probably would have enjoyed this book quite a bit more than I did (not as much as the original German version, of course, but I would likely have appreciated the story, the text, as a clever and imaginative retelling). And no, <u>The Story of the Root-Children</u> is definitely not a terrible picture book, a horrible story in and of itself. However, in my opinion, the book cannot be regarded as a translation of Sibylle von Olfers' masterpiece; it is but a rather loose retelling, a loose rendering (a very very pale reflection); in fact, the <b>only</b> part of <u>The Story of the Root-Children</u> that I would designate as being wholly of and by Sibylle von Olfers are the illustrations. And while I cannot really recommend <u>The Story of the Root-Children</u> for its text, its adapted narrative, I can and do recommend it for the simply glorious illustrations (and if you know how to read German, go and get yourself a copy of <u>Etwas von den Wurzelkindern</u> for a truly magical, wonderful reading experience).