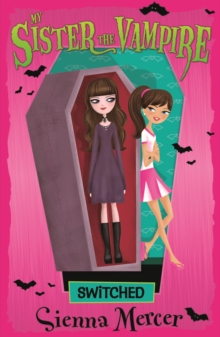 Description
Perfect for fans of Goth Girl, this addictive supernatural series is ideal for girls of 9+ to sink their fangs into... Olivia Abbott is a cheerleader - pretty clothes, pretty hair and pretty perfect.
Ivy Vega is definitely not the cheerleading type - black clothes, black eyeliner, pale skin.
In fact she seems the exact opposite of Olivia - or she would be if she wasn't her twin!
Meeting for the first time since being separated at birth, Olivia is about to discover that her long lost sister may just have some skeletons in her closet.
But that won't put her off getting to know Ivy. After all, blood is thicker than water - and it's certainly tastier!A vampire book for girls who want to read about young love and innocent paranormal romance.
Ideal for fans of Jacqueline Wilson, Meg Cabot, and Zoe (Zoella) Sugg. Have you collected the whole `My Sister the Vampire' series?Switched Fangtastic!
Revamped! Vampalicious! Take Two Love Bites Lucky BreakStar StyleTwin Spins!Date with DestinyFlying SoloStake Out!Double Disaster!Flipping Out!Secrets and SpiesFashion FrightmareSpooktacular!Fangs for the MemoriesLook out for Sienna Mercer's other great series, `My Brother the Werewolf'Sienna Mercer grew up in Toronto, Canada.
She was an only child, and always wanted a brother or sister - especially a twin.
A twin would have been awesome! Sadly, she never got that sister so, when she was grown up, she did the next best thing - she wrote stories for girls about a girl who reminded her of herself, and gave her the most fun, fabulous twin she could imagine . . . a vampire twin.
Information
Format: Paperback
Pages: 256 pages
Publisher: Egmont UK Ltd
Publication Date: 01/01/2009
ISBN: 9781405240864
Free Home Delivery
on all orders
Pick up orders
from local bookshops
Reviews
Showing 1 - 2 of 2 reviews.
Review by BethanyVeltman
16/06/2015
My Sister The Vampire written by Sienna Mercer is a captivating book if you really enjoy reading about vampires or if you don't. My Sister The Vampire (switched) is the first book out of four of the serious. The book, Switched, is about a girl named Olivia who moves to another school called Franklin Grove. One day Olivia accidently bumps into her long lost twin sister, Ivy. Olivia and Ivy become best friends at first but after a while they realize they look the exact same. Having a twin sister made everything so much easier because Ivy had a chance to go out with boy of her dreams but also had to attend a meeting. Olivia would dress up as Ivy and go to the meeting so Ivy could go on the date with the boy of her dreams. After getting to know each other, Olivia discovered the truth about her long lost twin sister Ivy being a vampire. The style of the writing is easy to understand and it flows well which makes it easy to read. My Sister The Vampire has a lot of different settings throughout the book although it can be confusing because it could be Olivia's turn at telling the story and then it jumps to Ivy's and she is set in a total different setting. I enjoyed Switched a lot that I am reading the second one of the serious called Fangtastic and I can't wait to finish this one so I can read the third book. Although the book is about vampires it isn't scary. I recommend it children and teenagers.
Review by wyvernfriend
16/06/2015
When Olivia Abbot moves she finds a twin she never knew about, Ivy. The two of them are like chalk and cheese and as they get to know each other they discover just how different they are.It's readable but not really memorable and I'm not rushing out to get the next in the series.
Also in the My Sister the Vampire series | View all