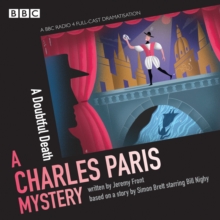 Charles Paris: A Doubtful Death : A BBC Radio 4 full-cast dramatisation
eAudiobook MP3
Please note: eAudiobooks can only be purchased with a UK issued credit card.
Description
Bill Nighy returns as the loveably louche actor-cum-amateur detective Charles Paris Charles Paris is in Oxford, appearing in a re-imagining of Hamlet by a high-concept drama company.
No fan of immersive theatre, he's unimpressed with the director's vision and less than thrilled to be rehearsing alongside puppeteers and mime artists. But he soon finds himself back on familiar territory when the actress playing Ophelia goes missing, only to turn up dead.
Did she take her own life, or was there foul play? As he amasses a list of suspects who might have wished her harm, Charles takes on the mantle of detective once more to decide if this is to be or not to be a murder case... Scripted for radio by Jeremy Front from a story by Simon Brett, A Doubtful Death stars Bill Nighy (Emma, The Best Exotic Marigold Hotel) as Charles Paris, with Suzanne Burden as Frances and Jon Glover as Maurice. Also included is an exclusive 18-minute afterword in which Jeremy Front discusses his experience of adapting an unproduced screenplay, reveals what it's like to work with recurring characters and actors, and explains the mechanics of recording for radio. Simon Brett OBE has written 19 Charles Paris novels as well as many other detective novels.
Jeremy Front is a dramatist and comedic writer; he has won awards for his adaptation of Sword of Honour and co-writes and stars in the series Incredible Women with his sister, Rebecca. CreditsWritten by Jeremy FrontFrom a story by Simon BrettProduced and directed by Sally AvensProduction Coordinator: Cynthia FaganStudio Managers: Anne Bunting, Keith Graham and Jenni BurnettInterview produced by Ania Duggan and Roshni RadiaFirst broadcast on BBC Radio 4, 22 May-12 June 2020CastCharles Paris........................Bill NighyFrances........................Suzanne BurdenMaurice........................Jon GloverVicky........................Jessica TurnerJenny........................Scarlett CourtneyTomasz........................Ian ConninghamTour Guide/Dan........................Will KirkWaitress/Izzy........................Lucy ReynoldsZoe........................Laura ChristySiriol........................Sinead MacInnesPete/Player King........................Neil McCaulTim ........................Greg JonesCanon Park/Director........................Clive HaywardPassenger........................Adam CourtingWaitress/Sat Nav. ........................Amy Bentley-KleinCassie........................Heather CraneyCheckout/Fortinbras........................Ikky ElyasContinuity R4/WS Announcer........................Jeremy Front
Information
Format: eAudiobook MP3
Run-time: 0 hours 0 mins
File size: 0MB
Publisher: BBC Audio, A Division Of Random House
Publication Date: 02/07/2020
Category: Radio
ISBN: 9781787535831
Download and listen
eAudiobook