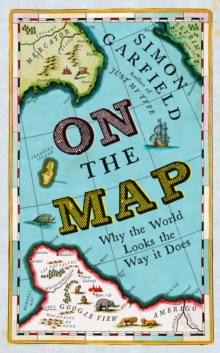 On the Map : Why the World Looks the Way it Does
Hardback
Description
Maps fascinate us. They chart our understanding of the world and they log our progress, but above all they tell our stories.
From the early sketches of philosophers and explorers through to Google Maps and beyond, Simon Garfield examines how maps both relate and realign our history, with pocket maps of dragons, Mars, murders and more, with plenty of illustrations and prints to signpost the route. His compelling narratives range from the quest to create the perfect globe to the challenges of mapping Africa and Antarctica, from spellbinding treasure maps to the naming of America, from Ordnance Survey to the mapping of Monopoly and Skyrim, and from rare map dealers to cartographic frauds.
En route, there are 'pocket map' tales on dragons and undergrounds, a nineteenth century murder map, the research conducted on the different ways that men and women approach a map, and an explanation of the curious long-term cartographic role played by animals. On The Map is a witty and irrepressible examination of where we've been, how we got there and where we're going. "Delightful. If maps be the fuel of wanderlust, read on." From the foreword by Dava Sobel, author of Longitude.
Information
Format: Hardback
Pages: 464 pages, 60 ills
Publisher: Profile Books Ltd
Publication Date: 04/10/2012
Category: Historical geography
ISBN: 9781846685095
Other Formats
Paperback from £8.75
EPUB from £5.58
Free Home Delivery
on all orders
Pick up orders
from local bookshops
Reviews
Showing 1 - 4 of 4 reviews.
Review by Eyejaybee
16/06/2015
This is a marvellous book. Basically a history of map-making it also includes a fascinating perspective on both the classical and renaissance ages. Garfield clearly loves maps himself and the clarity of his prose helps to impart that zest to his reader.He starts by recounting the Greeks' theories of geography, astonomy and cosmosgraphy, and rapidly convinces us of the sheer genius that they brought to their field. For example, in the third century BC Erastosthenes of Alexandria, renowned mathematician, geographer, philosopher, athlete, poet, musician and general polymath about town, compared his observations of the elevation of the solstice sun at noon in his home town with what he found in Swenet (modern-day Aswan), and was not merely able to confirm that the Earth is a sphere, but to calculate the size of it. His calculations suggested that the circumference of the Earth is 25,000 miles. As we now know, the circumference is actually 24,901 miles, so his calculations were impressive to say the least.From Erastosthemes Garfield takes us through Ptolemy (whose concentric sphere model of cosmology would remain dominant throughout the civilised world for fifteen hundred year before being debunked by Copernicus) to the Renaissance manificence of Mercator and Moll.He recounts the history of the Ordnance Survey (though I would recommend that readers with a p[articular interest in this might prefer Rachel Hewitt's marvellous "Map of a Nation"), and dwells with affection on the spate of satirical maps that became popular in the nineteenth century, showing John Bull or menacing Russian octopuses (octopi?) looming over the rest of Europe. I particularly enjoyed his chapter on the development of the London A-Z. In his later chapters he explains the methodology (and some of the pitfalls) of the modern obsession with sat-nav technology, though he is confident that, regardless of their convenience, they will never supplant the traditional map. In between most of the chapters Garfield offers smaller sections addressing a particularly quirky aspect of map history.I found the later chapters slightly less engrossing than those covering the early centuries but all in all this was a fascinating, lucid and immensely enjoyable book.
Review by PensiveCat
23/09/2015
On the Map is basically a series of articles regarding the History of Maps and mapmaking, and the social/historical contexts of maps. It's not just the textbook maps: there's also a part on mapping the brain that is rather fascinating. Very witty in parts, and not highbrow or dumbed down. I believe my existing interest in maps has deepened.
Review by john257hopper
16/06/2015
I have been fascinated by maps since childhood. This is a fascinating book about the history of maps and map-making from the very earliest representations on stone, clay tablet, papyrus and parchment through the classics like Eratosthenes, Claudius Ptolemy, Mercator and a host of Dutchmen, to Google Maps and Skyrim, and even mapping of the cerebral cortex. It is never less than intriguing, though I thought some parts were a little trivial and the vignettes at the end of most chapters often jarred rather with the content of the chapters before and after and interrupted the flow. More seriously, the reproduction of the many illustrations was rather poor and it was often hard to make out much detail. There were no colour illustrations, though there was a fold out colour map in the Waterstones exclusive edition of the book which I borrowed from a colleague (thanks, Ian!). Overall, though, a great read for anyone with curiosity about the world about them. 4.5/5
Review by MiaCulpa
23/09/2015
"On the Map" is a range of essays relating to maps, some more than others. Ranging from the oldest maps in existence, through famous old maps, such as the Mappa Mundae of Hereford, to some of the biggest map dealers in the world to map thieves and to online maps. Other reviews have argued that Garfield (Simon Garfield, the author, not the cartoon cat) seems to spend time on topics only tangentially connected to maps, perhaps to fill the word limit required, I found these tangents illuminating. And, like Garfield, I worry that one day will no longer use printed maps at all, and we will lose something important that has been with us for thousands of years.