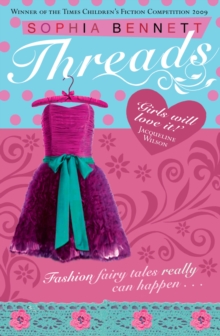 Description
Fashion fairy tales really can happen. Nonie, Edie and Jenny are best friends with very individual tastes.
Nonie's a real trend setter and her passion is fashion.
Humanitarian Edie is on a mission to save the world. And budding actress Jenny has just landed a small part in a Hollywood blockbuster.
But when these three friends meet a young African refugee called Crow, sketching a dress at the Victoria and Albert Museum, they discover a common passion and somehow find a way to make all of their dreams come true.
Information
Format: Paperback
Pages: 272 pages
Publisher: Chicken House Ltd
Publication Date: 07/09/2009
Category: General
ISBN: 9781905294985
Free Home Delivery
on all orders
Pick up orders
from local bookshops
Reviews
Showing 1 - 3 of 3 reviews.
Review by CaroTheLibrarian
16/06/2015
PLUS - * A combination of girly pink fluff and some quite thought provoking parts about asylum seekers and belonging.* Well written characters with interesting variety.MINUS - * The three main girl characters were so different that I'm not sure they would really have such good friends as they are in the book.* The main plot - refugee girl gets discovered as genius fashion designer seems more than a little far fetched and unlikley but.... if we're talking about inspiring kids to follow their dreams then maybe there's not so much wrong with that after all. OVERALL - * Fun and frothy, definitely one for the girls, but with enough of more the serious underlying issues to make it more than you run-of-the-mill teenage chick-lit.
Review by Ladybug83
16/06/2015
Tell me what's this book about?Nonie, a girl who lives and breathes for fashion, Edie a girl who wants to work for UN when she grows up and Jenny a new star in Hollywood. Edie is an idealist an works on many different projects, one of the things she does is volunteer to help other children with their homework. Through this project the three friends meets Crow, a 12 year old refugee from Uganda. Crow cannot read and Edie is struggling to find a way to teach her. Together the girls quite by chance figure out a way to make Crow want to learn how to read. Crow loves fashion and she can design the most amazing dresses. Through their friendship with Crow the girls all get their chance to realize their own dreams, but is it right of them to do so?My thoughts on Threads:This is a fashion fairytale, there is no other way to put it. I say fairytale because the story isn't very realistic, you have to take it for what it is; a fairytale. If you do as I advice then you will enjoy this sweet story about four girls and a couple of boys and a whole lot of fashion. I'm sure all the girls out there who loves fashion will appreciate all the references to the real fashion world.If I was a teenager today then I'm sure I would have devoured this book and loved it, the 26 year old me really enjoyed reading this book and looks forward to read the sequel Boys, beads and bangles(don't you just love the title?!). Unfortunately it doesn't come out in Norway until 2011, so I think I have to read it in English(I don't mind that at all ;)) Threads is divided into fairly short chapters which makes this an easy read even for a reluctant reader, it is easy to take short breaks when the chapter ends(but I think most of the readers in Threads target group will finish this book in no time).Worth noticing: £1 from every sale going direct to Save the Children. Kudos to Sophie Bennett and her publisher I think that is great! It makes me feel guilty for receiving a copy, let's hope that my review will get at least one more copy of Threads sold.
Review by mads14
16/06/2015
Threads is one of the most beautiful, fun and creative books I've read all year. It's one of those books that you just have to have on the shelf, in easy reach for regular reading. Beautifully and wittily told with vibrant characters that jump out from the page and twirl you around, those that love the crazy world of fashion and even those that don't will really enjoy this fantastic story, I know I did. Nonie, Edie and Jenny are best friends, normal teenagers with big dreams. But it's when Edie introduces them to Crow, a refugee girl who wears dungarees and fairy wings, that they will have a chance to use their dreams, of working in the fashion industry, United Nations and Hollywood movies, to help children like Crow to also follow their dreams. The back of the book says the rest, but read it, you'll truly enjoy it.