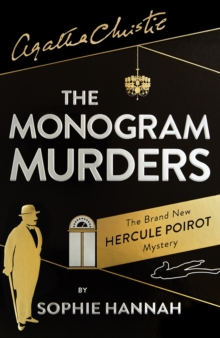 The Monogram Murders : The New Hercule Poirot Mystery
Hardback
Description
The new Hercule Poirot novel - another brilliant murder mystery that can only be solved by the eponymous Belgian detective and his `little grey cells'.Since the publication of her first book in 1920, Agatha Christie wrote 33 novels, two plays and more than 50 short stories featuring Hercule Poirot.
Now, for the first time ever, the guardians of her legacy have approved a brand new novel featuring Dame Agatha's most beloved creation.Hercule Poirot's quiet supper in a London coffee house is interrupted when a young woman confides to him that she is about to be murdered.
She is terrified, but begs Poirot not to find and punish her killer.
Once she is dead, she insists, justice will have been done.Later that night, Poirot learns that three guests at the fashionable Bloxham Hotel have been murdered, a cufflink placed in each one's mouth.
Could there be a connection with the frightened woman?
While Poirot struggles to put together the bizarre pieces of the puzzle, the murderer prepares another hotel bedroom for a fourth victim...In the hands of internationally bestselling author Sophie Hannah, Poirot plunges into a mystery set in 1920s London - a diabolically clever puzzle that can only be solved by the talented Belgian detective and his `little grey cells'.
Information
Format: Hardback
Pages: 384 pages
Publisher: HarperCollins Publishers
Publication Date: 09/09/2014
Category: Classic crime
ISBN: 9780007547418
Other Formats
Paperback from £7.15
EPUB from £5.49
CD-Audio from £16.35
eAudiobook MP3 from £10.39
Free Home Delivery
on all orders
Pick up orders
from local bookshops
Reviews
Showing 1 - 3 of 3 reviews.
Review by infjsarah
27/08/2015
I was looking forward to this but it was disappointing. Can't put my finger on it but for me it didn't work. I didn't like the police detective <spoiler> I kept expecting him to turn out to be the murderer.</spoiler>And the resolution was extremely complicated.
Review by Kathy89
16/06/2015
I did enjoy this book but agree with the other reviewers about the complicated overly long ending which seemed like a lesson in deduction 101 for poor Inspector Catchpool.Hercule is taking a break at a B&B near his home when he meets a scared young woman at a coffee shop. He learns that a triple murder has been committed and is positive that his acquaintance is in danger and wants to find her. Inspector Catchpool is staying at the same B&B and enlists Hercule's help. The victims have been positioned the same and have monogramed cufflinks in their mouths.
Review by pierthinker
27/08/2015
Sophie Hannah has produced a new Poirot novel with the full backing of the Agatha Christie estate. Taking a break from his 'normal' duties, Poirot is drawn to a multiple murder at a London hotel by a young detective boarding in the same house as him and soon finds he has been deliberately involved in order to drive the investigation in the wrong direction. A complex interweaving of motives, actions, relationships and revealed information requires deep thinking and leads Poirot down many false trails before he reveals the true perpetrator(s) and motive(s).Set in 1920s London, this book has all the comforts of an original Christie Poirot but, I think, has a harder edge to the revealed evil that even the most ordinary people will do.