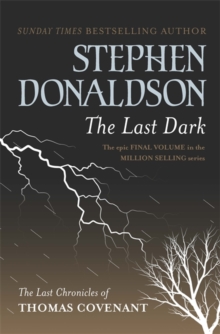 Description
The bestselling fantasy series from one of the biggest names in the genre comes to an unforgettable conclusion.
This is the final volume of the epic Chronicles of Thomas Covenant - one of the keynote works of modern fantasy.Compelled step by step to actions whose consequences they could neither see nor prevent, Thomas Covenant and Linden Avery have fought for what they love in the magical reality known only as 'the Land'.
Now they face their final crisis. Reunited after their separate struggles, they discover in each other their true power - and yet they cannot imagine how to stop the Worm of the World's End from unmaking Time.
Nevertheless they must resist the ruin of all things, giving their last strength in the service of the world's continuance.
Information
Format: Hardback
Pages: 592 pages, 1 maps
Publisher: Orion Publishing Co
Publication Date: 17/10/2013
Category: Fantasy
ISBN: 9780575076020
Other Formats
Paperback from £9.39
EPUB from £6.99
Free Home Delivery
on all orders
Pick up orders
from local bookshops
Reviews
Showing 1 - 1 of 1 reviews.
Review by infjsarah
16/06/2015
So the 10 book series finishes. It has been a 30 year journey for the author and for me. You are not going to read this book if you have not read and enjoyed the previous 9.SPOILERS - I first read the First and Second Chronicles as a teenager and loved them. LOTR is still my top book but the Chronicles are a close competitor. They are compared to LOTR but are in fact very, very different.I have not enjoyed the Last Chronicles as much as the first but I wonder if one can ever feel the same passion for a book as an adult as you can as a teenager. They are still an absorbing challenging read about guilt and power and responsibility and self hate. The final book is a succession of battles after the relatively slow progress of the other 3 books. And this is where the book failed to reach the heights of the previous series.To me, Donaldson's strength was always his ability to make you care about the Land and his characters. As you journey with Covenant you fall in love with the Land and its people in the same way he does. In particular, his Giant characters are unforgettable. I sobbed over Foamfollower's death, the struggles of The First and Pitchwife, Seadreamer and Honniscrave. So when he reintroduced Giants in the Last Chronicles, I was thrilled. BUT somehow these Giants failed to make an impact on me. They were indistinguishable from each other. Most of them die in this book and most of the time I wasn't even sure which one it was that had died and as a result I didn't care much.I still cared about Covenant and Linden (it was really weird when she started calling him Thomas! - I kept wondering who she was referring to!). Again I was obviously supposed to care about Jeremiah but I really didn't feel it. Linden loves him obviously but he has to be interesting to the reader too and he didn't quite work. You care about Stave because of his actions, not because another character loves him.I feel I have been very critical in this review and maybe given the impression I didn't like it. But I did - it has a satisfying end and Donaldson is still better than 99% of other writers. Expanding your vocabulary if nothing else!When I am old and retired, I will reread the entire series and be able to see the whole.
Also in the Gollancz S.F. series | View all