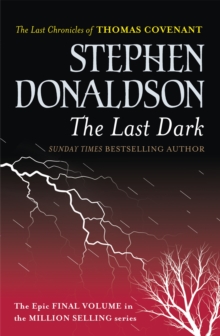 Description
The bestselling fantasy series from one of the biggest names in the genre comes to an unforgettable conclusion.
This is the final volume of the epic Chronicles of Thomas Covenant - one of the keynote works of modern fantasy.Compelled step by step to actions whose consequences they could neither see nor prevent, Thomas Covenant and Linden Avery have fought for what they love in the magical reality known only as 'the Land'.
Now they face their final crisis. Reunited after their separate struggles, they discover in each other their true power - and yet they cannot imagine how to stop the Worm of the World's End from unmaking Time.
Nevertheless they must resist the ruin of all things, giving their last strength in the service of the world's continuance.
Information
Format: Paperback
Pages: 672 pages, 1 maps
Publisher: Orion Publishing Co
Publication Date: 12/02/2015
Category: Fantasy
ISBN: 9780575083462
Other Formats
Hardback from £15.79
EPUB from £6.99
Free Home Delivery
on all orders
Pick up orders
from local bookshops
Reviews
Showing 1 - 1 of 1 reviews.
Review by reading_fox
27/08/2015
And so the saga concludes. It's been a long time coming, this is the 10th book in the series, and clocks in at yet another 600 pages. The first was written back in the 80s, so we're 3 decades down the line too. Characters have been born, died, resurrected, and fallen in and out of love, they've wrestled with doubt and mis-trust, fear and loathing, hate and wonder. The Land has changed beyond all recognition over the millennia of Covenant's visitations. Time itself is finally in peril as we're down to the last few days before the Worm at the World's End reaches the Earthblood and shatters the Arch of Time. It has been beyond all doubt an epic ride filled with obtuse vocabulary, intense passion and commitment, dramatic action and helpless passivity. A series of contrasts and great extremes. This the final final conclusion is worthy of all that drama.As ever the focus is on the characters emotions. How do you trust. How to do you cope with pain. There are many forms of betrayal, but some of them can be forgiven and embraced. Linden and Covenant have to accept there are also many forms of service and that they can neither ask nor forbid others to make their own choices.Jeremiah finally has a voice of his own, not often or for long, but regaling similar themes to the others. Given how Hyrim's ride of Gilden Fire was removed from the earliest books, I do wonder whether the same editorial decisions should have been made. But then again, different questions are answered by his presence.It isn't a book or series that I'll re-read often. It is a massive undertaking, and these last volumes don't have the impact of the earliest works. But they remain a tour-de-force among epic fantasy, something that many authors could strive to emulate rather than concentrating on prolonged action sequences. There is plenty of action here too of course, far more than in some of the series. But it's timely given the forces at play and the consequences all of the parties both "good" and "bad" face. I approve of the ending.and feel the series has been well completed.
Also in the Gollancz S.F. series | View all