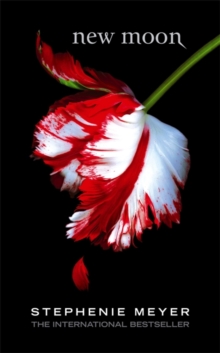 Description
I stuck my finger under the edge of the paper and jerked it under the tape. 'Shoot,' I muttered when the paper sliced my finger.
A single drop of blood oozed from the tiny cut. It all happened very quickly then. 'No!' Edward roared ... Dazed and disorientated, I looked up from the bright red blood pulsing out of my arm - and into the fevered eyes of the six suddenly ravenous vampires.For Bella Swan, there is one thing more important than life itself: Edward Cullen.
But being in love with a vampire is more dangerous than Bella ever could have imagined.
Edward has already rescued Bella from the clutches of an evil vampire but now, as their daring relationship threatens all that is near and dear to them, they realise their troubles may just be beginning ...
Information
Format: Hardback
Pages: 576 pages
Publisher: Little, Brown Book Group
Publication Date: 01/01/2007
Category: Fantasy
ISBN: 9781904233862
Other Formats
Paperback from £7.25
EPUB from £4.99
Hardback from £9.89
Free Home Delivery
on all orders
Pick up orders
from local bookshops
Reviews
Showing 1 - 5 of 11 reviews.
Previous | Next
Review by luvdancr
16/06/2015
As Stephenie Meyers follow up to Twilight, New moon offered everything her first book did, and more. She developed the characters further, and introduced new relationships. This story continued to hold my interest through the additional pages of this book. I could hardly wait for the release of Eclipse.
Review by bellalibrarian
16/06/2015
Fantastic read, I cannot wait until "Eclipse." Meyers characters are wonderful. I find myself caring for them so much. I feel like I am Bella. A book is always wonderful if you can identify with the characters.
Review by elbakerone
16/06/2015
New Moon follows Twilight in the gripping tale of teenager Bella Swan who is desperately in love with the vampire Edward Cullen. Edward decides to leave the town of Forks hoping that Bella will have a chance at a normal life without him. Most of the novel is devoted to their separation and the pacing drags quite a bit through Bella's subsequent depression. Things pick up for Bella (and the story) when she renews her relationship with her childhood friend Jacob Black. It comes as no surprise however when it is revealed that Jacob, like Edward, is no ordinary teenager. Although I did not enjoy New Moon as much as its predecessor, I still found it to be an engaging and enjoyable read that left me all too eager for Eclipse, the next installment from Stephanie Meyer.
Review by wyvernfriend
16/06/2015
Oy the angst. This wallows in it. Bella made me so irritated with her constant twittering about how great her loss was when Edward decides that he needs to leave her in order to get her to live a life without him. She is Anita Blake without the sex but with all the whine. I have no idea why her father didn't march her to psychiatric services to get her out of the deep depression she was suffering, Edward (and some members of his family, particularly the "father")should have been shot for not noticing (despite his years of experience) that she was so dependent on him and mentally unstable.She had to fight her way out of depression on her own, the only thing that knocked some life into her was the threat that she was going to be sent to her mother. This was out and out neglect. When she starts coming out of her shell she fixates on another male who turns out to be another brand of supernatural. I almost expect to finish the third novel (if I bother) and find that it's all been a drug-induced or mental illness induced episode and the story finishes up with her parents being briefed by a psychiatrist. It's no wonder that a disorderly queue has been formed to kill her!There were bits and pieces that worked and I enjoyed but overall it didn't impress or make me want to read more.
Review by mchrzanowski
16/06/2015
Another great book from Stephenie Meyer. This was also a very fast read, but still has a lot of substance. The story continues on from when Twilight left off. Naturally, werewolves are brought into this story (although I did see that coming) as apparently we cannot have vampires without werewolves. While I enjoyed most of the book, I just didn't like the direction that it was going with Jacob Black and Bella. I do like his character, however I see where this love triangle is really being formed. I am glad with the ending though. This wasn't as good as Twilight, but still a really great book. I really recommend picking this one up.
Also in the Twilight Saga series | View all